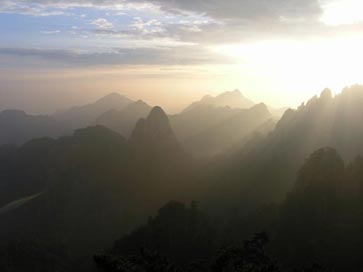 Huangshan Sunrise
Welcome! This site was created by friends and students of Rene Navarro. Rene has been involved in the martial arts, healing, acupuncture, daoism and self-cultivation since the early 60's. He has traveled the world as a student, seeker, brother and teacher and is still on the path.  Rene's studies have taken him to Indonesia, where he met the Magus of Java, and Huangshan where he encountered the incredible hermits of Lei Shan Dao. He has written both articles and poetry about his travels and studies and has taught students with similar interests all over the globe.
If you are seeking guidance, instruction and a kind and knowledgeable teacher, we hope this site will help you learn more about Rene and what he has to offer.
If you like what you read, you can keep in touch with Rene by following his Blog or signing up for his newsletter. If you would like to study with Rene, please check out his course offerings and the calendar. He is an approved NCCAOM provider of Acupuncture CEU courses and teaches around the US and the globe. Feel free to contact him directly through the Contact Page or by commenting on the entries on his blog.
On the path of self-cultivation it is generally not easy to find a sincere and knowledgeable teacher. We hope that with this site we have assisted you in your search and you are able to reach your full potential in this lifetime.