It was in the Winter of 1994 — I have to consult my diary about it — and  enroute to Hawaii from the Philippines, the plane stopped over at Narita in Japan. I was with a couple of Chinese women I met in Hongkong. (Our United Airlines flight was delayed for a whole day in HK because of a terrorist report. I'll tell you the story another time.)  We had a whole day to kill, so we decided to  take  a train to Tokyo and walked around. We  were not dressed for the cold weather. I saw this park and did Tai chi there, something I have done in many parks around the world. The women took a few photos of me. We eventually landed in Oahu, Hawaii. It turned out the Chinese women were going to spend a few days at the University of Hawaii in Manoa. I took them around the island. Another coincidence: we met again in Harvard University a week or two later. (There is no space to follow the thread, so I'll also reserve it for later.) Perhaps, life has a lesson or two to teach us when we encounter synchronicity. Perhaps it is just happenstance — random, incomprehensible events that have no meaning?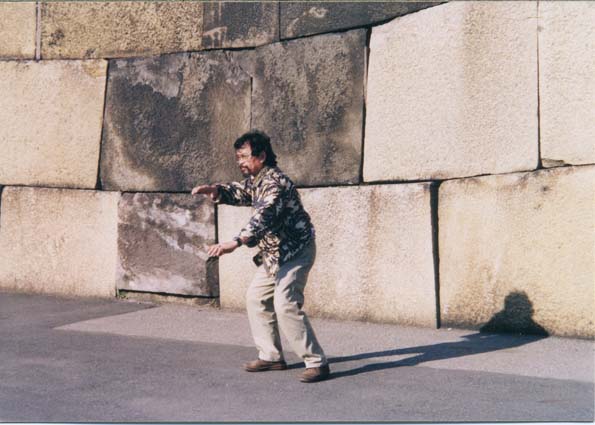 In the outskirts of Hangzhou are the tea plantations and the temples. Some of the buddhas were carved on the mountainsides. I have been to Hangzhou a few times. To me, it is the most interesting city in all of China. I spent many memorable hours doing Tai chi inside a walled garden devoted to bonsai on Xihu/West Lake. You paid for a flask of hot water and a spoonful of tea and you sit on the patio. Because there is an entrance fee, there aren't many practitioners of Tai chi there, so you can actually have the place to yourself for hours. If you arrive early enough, there are no guards and you can come in for free. Within walking distance there's Hefang, a street with old wooden houses. The place is a kind of mall with shops vending tea, scarves, paintings, decor, gourds, buddhas, wu-shu weapons, clothes, bags. There's a food court on one side selling delicacies of the city — Su Dong Po pork, West Lake carp, duck bills and feet, stinky tofu. There's also near the entrance a couple of massage centers run by the blind.
My birthday celebrated with the family at one of my favorite restaurants, the Seoul Garden, on E 32nd Street and Broadway in Manhattan. With my granddaughters Ava and Isabel. Seoul Garden has some of the best doufu in town. I've celebrated several of my birthdays there.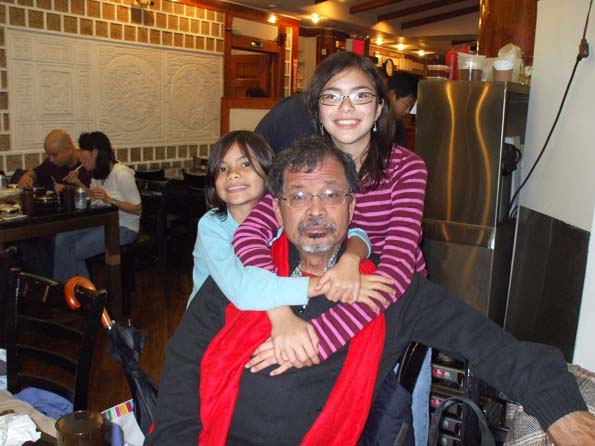 I make it a point to go to Walden Pond every time I go to Boston. I often do Tai chi in the parking lot in the summer or by the water in other seasons. The guards do not bother me; they just tell me to practice farther from the weekend traffic, especially when I have my Dao/Knife and Jian/Sword. After practice, I walk around the lake, stop by the original location of Henry David Thoreau's cabin and light an incense or two there.
One time, in observance of Spring Equinox, on a Sunday I went to Concord and spent a couple of hours sauntering around Walden Pond, where Henry David Thoreau lived for a couple of years in his famous cabin. Sauntering: from sainte terre, now meaning a pilgrimage to a sacred place.
I have done it many times before, especially during my years studying and later teaching in acupuncture school outside of Boston. There were occasions at Walden when I practiced Tai chi chuan for hours at The Farm with my friend Debra Kang Dean, an award-winning poet and Tai chi teacher and aficionada (www.debrakangdean.com). Her late husband Bradley Dean was a respected Thoreau scholar.
I almost always end up at the original location of Thoreau's cabin where a cairn has been built nearby. A sign was posted saying (from Walden, or A Life in the Woods):
"I went to the woods because I wished to live deliberately, to front only the essential facts of life, and see if I could not learn what it had to teach, and not, when I came to die, discover that I had not lived."
I did repair to the store on the premises and bought a few memorabilia: a couple of items with Thoreauvian quotes:
"Surely joy is the condition of life."
"Always you have to contend with the stupidity of men."
"Simplify. Simplify."
I also got some cards with the famous line:
"If a man does not keep pace with his companions, perhaps it is because he hears a different drummer."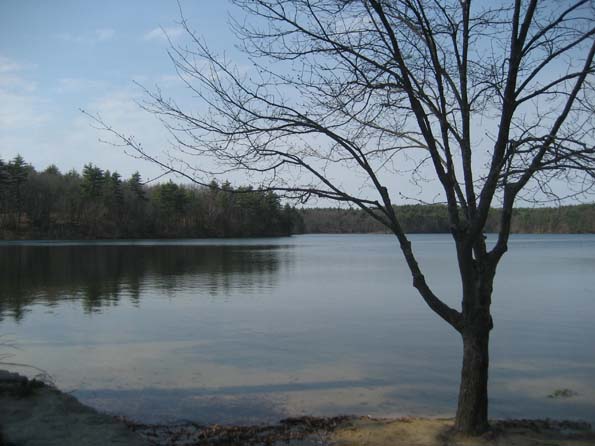 At Fengdu, the city of the dead. The cruise ship stops at different points on the trip to the 3 Gorges and the Great Dam. There were vendors peddling memorabilia, umbrellas, masks, snacks, bottled water. Inside there were statues of people undergoing punishment in the different circles of hell.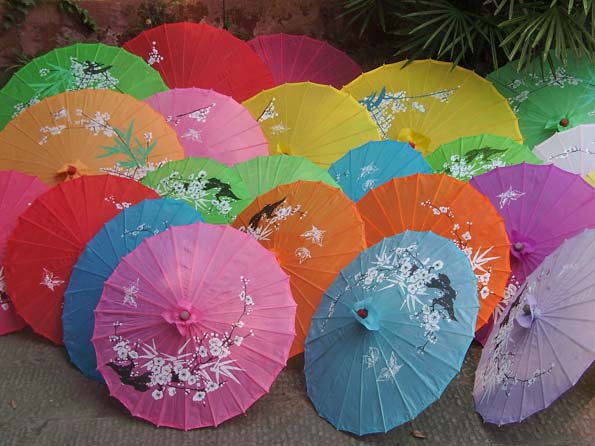 I was in Paris a long time ago. I practiced Tai chi at the Jardin de Tuileries before I went to the Louvre to see the Mona Lisa and the Winged Victory of Samothrace, two of my favorite art objects in the museum. I cannot remember now if I.M. Bei's pyramid was already in place at the time, but somehow in my memory, it has always been there during the times I was visiting. In the photo, I posed in the White Crane posture.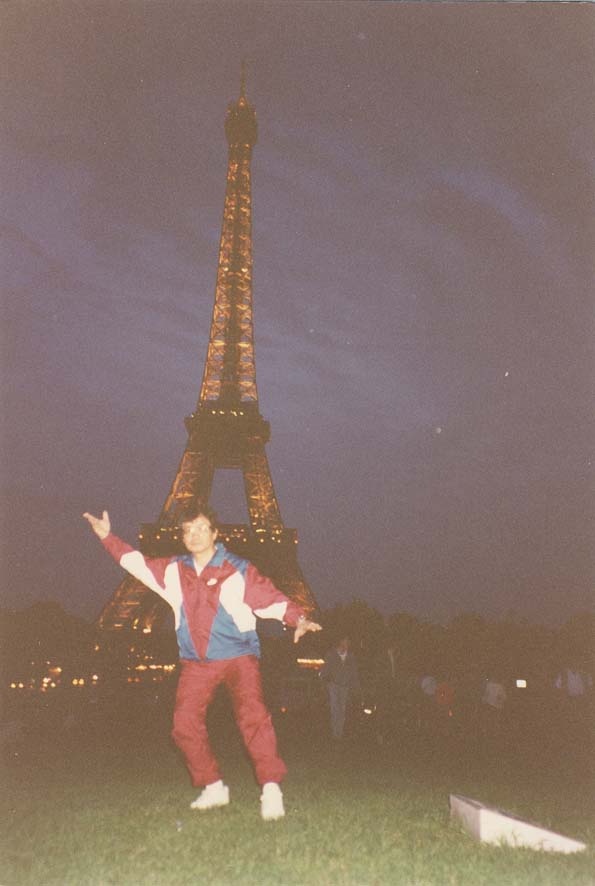 If you are at the Tao Garden, GM Mantak Chia's first-rate resort in Doi Saket, Chiangmai, Thailand, be sure to take a walk around the village. There are temples where you can listen to the monks chanting early at dawn, a noodle shoppe run by the thoughtful and lovely Pilat, and a few arts and crafts stores. These giant tamarind trees in the photo have their own spirit house and a small chapel for pilgrims. And oh, yes, don't miss the coconut ice cream in a private house across the creek. It is the best ice cream I have had anywhere. We often snuck up to the freezer at night and helped ourselves, always leaving the payment on the table.
A viewing window at the Humble Administrator's Garden in Suzhou, the Venice of the East. One time when I was visiting, there was a small ensemble playing traditional music on traditional instruments like the zheng/zither and the pipa/lute. Easy to be transported to the past in these surroundings.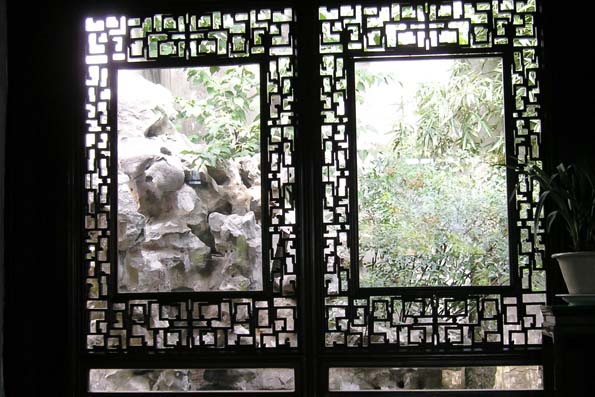 My first time in Chichen Itza, near Tulum and Cancun, was in 1984. I had been there many times in the 80s. I guess that was before the New Age people discovered the place. Nowadays, it is a center of pilgrimage for thousands during the equinoxes and solstices. One of my memories is seeing the serpent crawl down the steps. Since then, there have been much research into the different pyramids. It is amazing how much esoteric information is encoded in them.