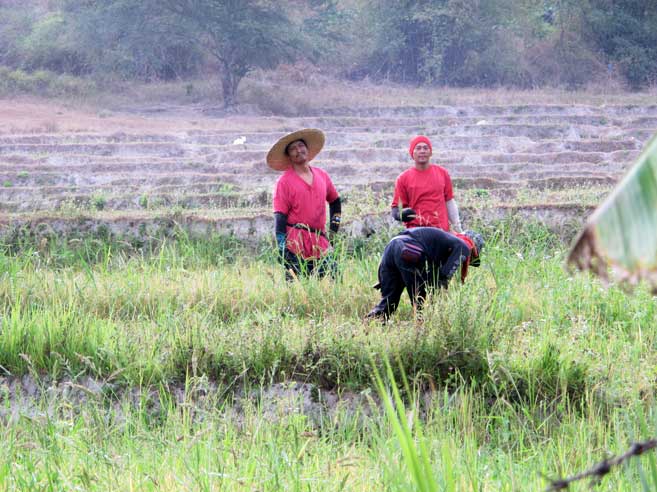 There was a short visit to Bamban, the old hometown, at the foothills of the Zambales mountain range. Farmers harvesting rice and a grandchild being held by his lolo.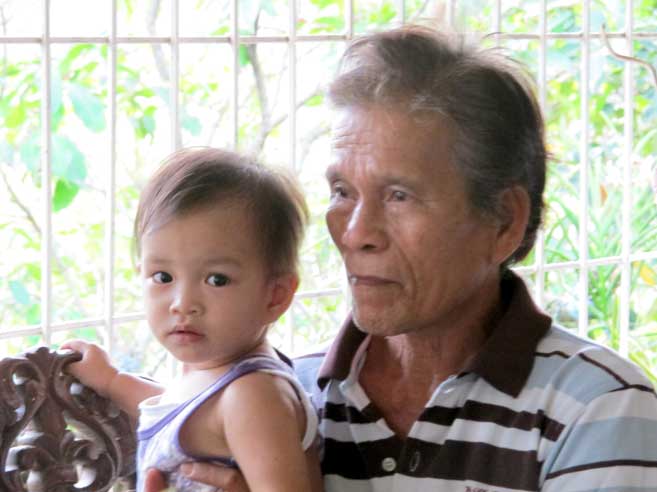 There was an orchard of mangos, tamarind, guayabano, coconuts, and chesas and several tilapia ponds. Cousins prepared native dishes — bringhi (a village version of paella), dinuguan (blood stew with a lot of garlic and pieces of a pig's head) and burung asan (fermented fish and rice which is used as a dipping sauce for ampalaya (bitter melon/gourd), okra and talong (eggplant) — and fried tilapia. On another occasion, we were served Philippine snacks — puto, cuchinta and tamales. There was too much to eat everywhere I went and I felt guilty for not being able to discipline myself.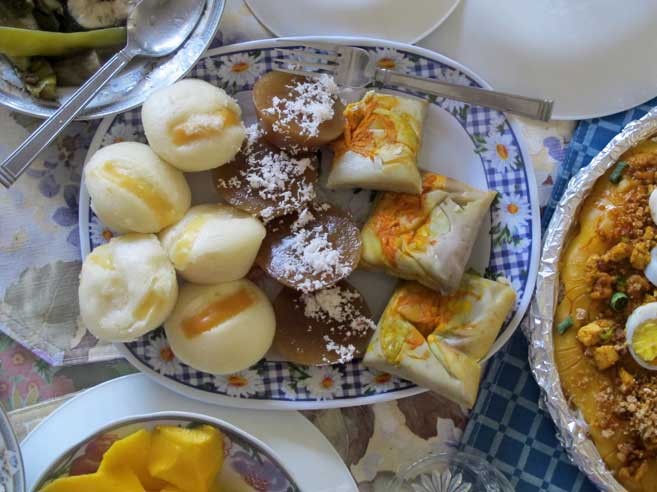 Esperanza del Rosario, the widow of my former minister Philip at the Methodist Church, was the speaker at the Sunday church service in Tarlac. It was our first time to meet after more than 40 years. The gentleman with us was Cesar Graganza, a childhood friend from the old hometown.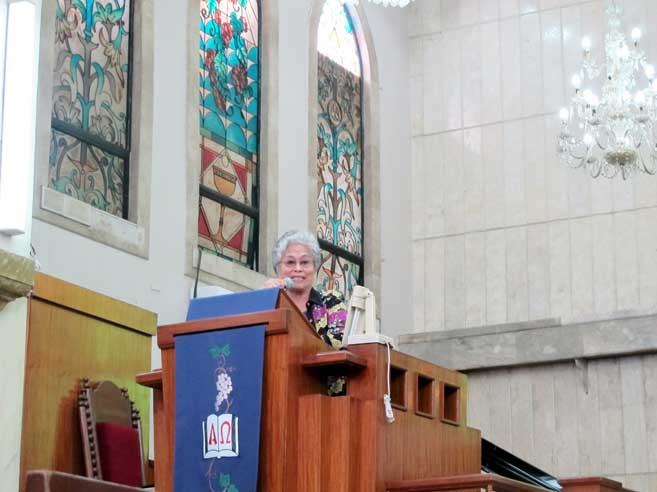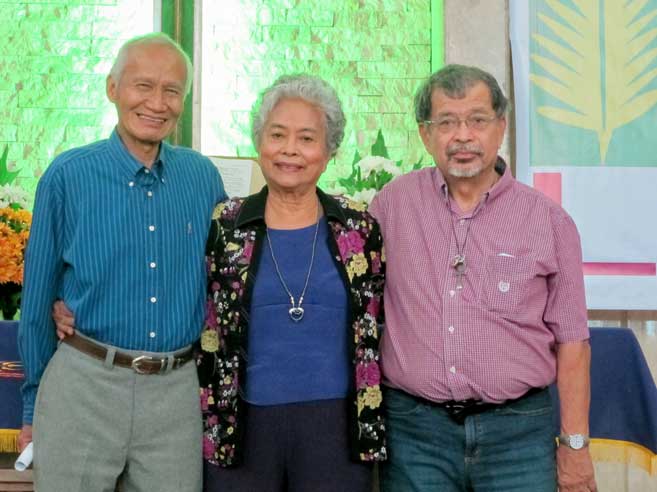 In Quezon City, Ed Maranan invited me to the art exhibit of Joly and Jana Benitez, father and daughter, at Erewhon Gallery, in Old Balara. A photo shows one of Jana's paintings. When we were introduced, she told me that she studied Daoist martial arts in Wudangshan. I wanted to talk to her about it but she was quite busy that night. I looked at her website and found that she lives in Brooklyn, NY and has studied art in many studios, schools and countries. An impressive CV for one so young.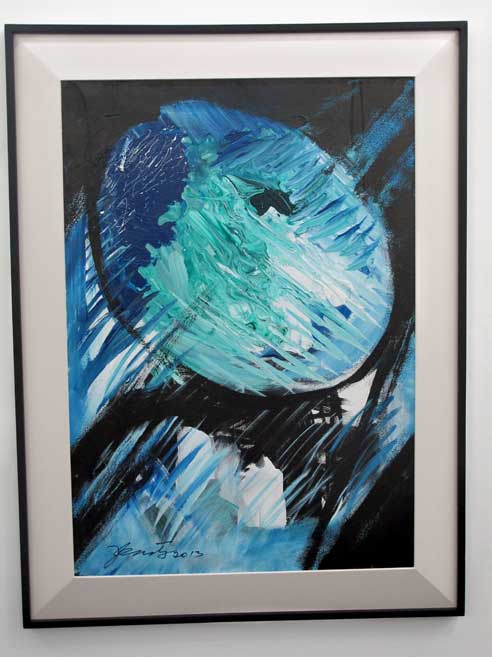 Ed and I were surprised to "encounter" Imelda Marcos in the gallery. She joined Helen Benitez for the photo op.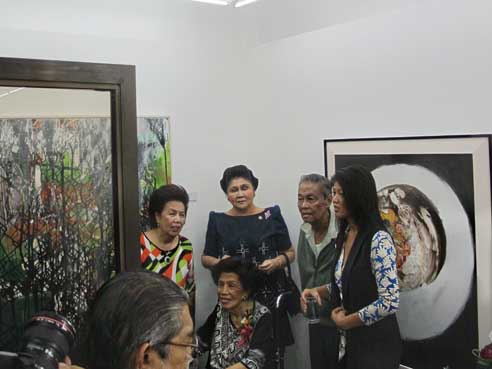 A photo shows me with the Maranan clan who own the Muang Thai Restaurant having dinner.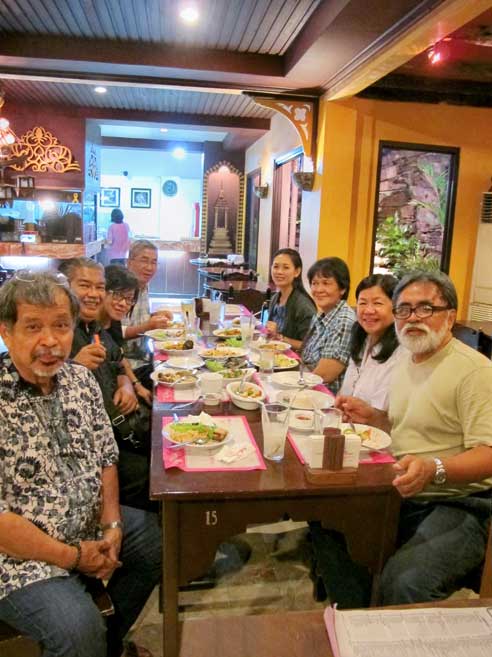 A 2-day Zhan Zhuang/Qigong foundations and Tai chi chuan DaoRen seminar sponsored by INAM, the center for integrated medicine that holds regular acupuncture courses, capped my Philippine visit. It was a fund-raising for their indigent project. INAM has organized many of my seminars on Tai chi chuan, Chi Nei Tsang internal organs massage, Qigong/Taoyin, and Microcosmic Orbit Meditation since 1998. Students, many of them working with the community, came from different parts of the country. A pleasant surprise: one time a woman from INAM gave me a massage. I did not recognize her, but I was surprised to receive a CNT manipulation. Photos show Annie Sollestre, who has studied with me for much of a decade, leading the class in the form, me supervising the class, the group posing for a picture after the awarding of certificates of attendance.