The first quarter of the New Year was quite busy.  Some of it was spent on family events.  A granddaughter's Spring Break, a weekend in Boston, a weekend in Philadelphia for a son's 51st birthday, a wedding in Lake Arrowhead, Southern California. It adds up. Still, I managed to study the old Taoist scriptures – by Lu Dongbin and Liu Yiming, among others –downstairs early in the morning and then go to the gym a few times a week.  I am happy to have kept my usual routine of practice and study.

Nothing significantly new in my life. I avoided Night Shades for a while but it did not improve my flexibility. I gave up carbo – rice, bread, cookies, for a few months and noodles – and felt better: the soreness in the left knee was considerably diminished, the muscles began to be more flexible. I can now do more of the old martial routines and perform a decent form in its entirely. One of these days, I will turn vegan. Just kidding. The culture of post-colonial Philippines – after the Spanish Conquista and US Manifest Destiny – has had a deep effect on one's diet that is difficult to shed (pun intended). So giving up certain dishes one grew up with is a big sacrifice and requires the determination of a renunciate.
I spent a few days in Boston, where nearby I studied Japanese and Chinese acupuncture and Traditional Yang Family Tai chi chuan before the turn of the millennium. I was intending to work out at the Tai chi school, but an unpredictable and unseasonable snowstorm upset my plans. I have friends in Boston with whom I could sit down at meal and share an engaging and enlightening conversation about subjects we are genuinely interested in.  I had dinner with Mike, a friend and acupuncture colleague, at a newly opened Taiwanese restaurant in Quincy, and a lunch with Mary Beth, another friend and Healing Tao associate, in Chinatown. It's always great to hear that a friend is doing well and is living a fulfilling life. At the hotel I spent my time reading the hilarious memoir of Amy Tan ("The Opposite of Fate") and writing tidbits for my website.
I was in Lake Arrowhead, Southern California for a wedding.  It was quite an experience to see the beautiful bride, glowing with total bliss, as she welcomed everybody to her party.  Well, I am not fond of weddings, to be honest, especially those that are fancy and make me wear formal clothes. (Henry David Thoreau, a personal idol, said: "Beware of enterprises that require new clothes.") But I was touched by her presence and enthusiasm as she stood beside her restrained, and dignified, husband. Roman Catholic weddings of Filipinos especially take a few days – from the rehearsals to rehearsal dinners to the actual wedding itself and the formal reception. The dinners are often feasts and are loaded with speeches and karaoke songs from relatives and friends.  The wedding itself, with the boring and jarring sermon to the cord ritual and exchange of rings, may take hours, believe it or not. Fortunately, as far as I am aware, there is no system of dowries in the Philippines. The issue of how many cows or goats to pay for the bride or the value of the house or apartment to gift the couple does not come up at all. What we do have is an elaborate ritual that can appear like a jubilee coronation or the union of two royal families.
I should not complain because Filipino weddings are relatively short compared to the weddings that last a week in Indonesia.  Although I have attended 6 Chinese wedding reception dinners in China and Taiwan, I do not know how the Chinese get married. It seems like the wedding itself is simple, although the feast is a multi-stage affair, with the bride changing into different gowns in an hour and the dinner slowly evolving through 10 appetizers and 24 main courses. My famous Japanese acupuncture sensei invited me to her wedding reception, but not to the wedding, and I have wondered how the ceremony was conducted: was it according to Jewish or Shinto rituals?  My own wedding more than 50 years ago was quite simple: the bare ceremony was presided by my father, a judge, followed by a lauriat, a Chinese feast for the small group of select guests.   That solved the questions of what to wear, which church to get married in, Protestant or Catholic, and the whole rigmarole of invitations, church, restaurant and hotel reservations, and the interminable details that follow the ritual itself . My own parents, I recently discovered, eloped. Last year I saw their marriage certificate signed in the Manila City Hall.  Apparently, they also had a problem with having different religions – my mother was a devout Catholic, my father a Methodist.
One time, at a wedding, I was asked at the last minute to read a passage from Genesis 2: it's that myth about the creation of Adam out of clay and Eve out of the rib of Adam and the injunction for the woman to obey the husband. I read it without conviction, indeed with exasperation, because I do not believe that Hebrew story, should be understood literally. Like other episodes in the Bible, we must read the passages with a bit of skepticism and humor.  Did Jesus ride into Jerusalem on one or on two donkeys? Was he born in a manger (Luke) or in a room (Matthew)?
Perhaps it is just me, with my strange ideas about rituals. I have the idea that, since the marriage vow is made by two people to each other, why bother everybody else? Besides, why get married at all? It is a rhetorical question to which I have no answer. I know it is a big commitment that calls for a big celebration, but why splurge when one can use the money for a private vacation on an island somewhere or plan a tour of Myanmar or France? I know that weddings are important in the context of political and clan expansions, like the Spanish royal bloodline uniting with England to make a powerful axis against their German competition and enemies, but in modern times? Besides, when religious commitment clashes with the desire for freedom, what does one do?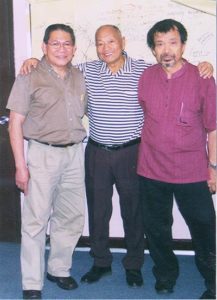 Two long visits to the Philippines are already booked. One is for August, the other for December.  I have been asked to teach but no public seminars have bee scheduled this time around so far. I will probably be teaching private classes and organizing a group to be affiliated perhaps with the Healing Tao International.   I will take a side trip to Hongkong later in the month to attend the anniversary dinner of a Ba Gua Quan group on invitation of a most versatile martial art teacher, Dr. Jopet Laraya. He and I studied with the same martial arts masters starting in the early 1960s. December I will spend in Estipona, Pura, a small barrio north of Manila, where my brother Roland and his wife Vicky cultivate 1500 ylang-ylang trees and raise 150 Philippine wild boars. I will try to see a few friends at the Tao Garden in Chiangmai whom I haven't seen for years.
There are issues of great significance I have put off writing about. I will deal with them later this year. Meantime, here are photos from the tour of the Silk Road (from September 2014) which I delayed posting in favor of my coverage of Myanmar. There's also a few from a short trip last March to Joshua Tree National Park about an hour or so from Lake Arrowhead. Thanks to my son Al and his wife Laura who took me for Mexican breakfast, a hike in Mojave desert and a bowl of ice cream later: it was a most enjoyable respite for the weekend.
Please keep in touch.
Rene
PS: For those who haven't read my recently published poetry, here are links to journals that featured my poems: