Dear Friends,
I will be leaving for the Philippines in a few days. So this is a small farewell to you … and a sincere blessing, too. Aside from family affairs, I will be teaching a Traditional Yang Family Tai chi chuan (first section) seminar on August 19 and 20 sponsored by INAM Philippines (www.integratibmedisin.com), the NGO that promotes almost all of my workshops in the Philippines. I will also visit Hongkong August 24-27 to attend an anniversary celebration of the Fu Style Taichi Pakua Federation International. I was invited by my friend and martial arts colleague Dr. Jopet Laraya, one of the most versatile martial artists I know. He and I trained under the same masters of Shaolin Kung-Fu Johnny Chiuten and Lao Kim in the Philippines back in the 1960s and in Philippine stickfighting/arnis de mano with Felicisimo Caburnay in Cebu in the late 1980s. We have visited with each other over the years – in Toronto, Canada and Manila, Philippines, Hongkong, Neptune, NJ and Pocono Mountains in Pennsylvania. It is one of my most enduring friendships.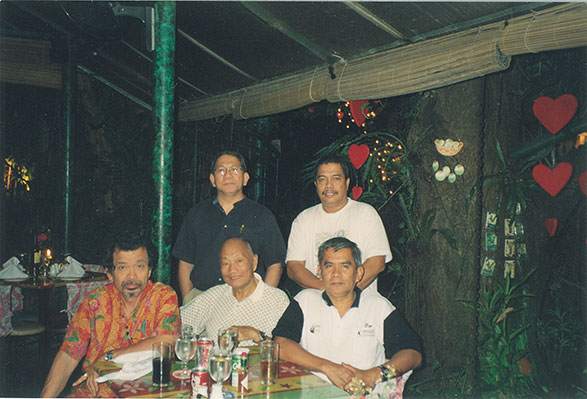 In celebration of Father's Day, my son Norman got us tickets to the Journey band concert at Borgata in Atlantic City. The main reason for this pilgrimage to the casino was to see and hear Journey's Filipino soloist, Arnel Pineda. Although I did not know anything about him or Journey until a few months ago, I bought all of his CD recordings and DVDs and the documentary of his life (shown at Tribeca Film Festival) and I wondered how it was to watch him perform on stage. I am grateful for the chance to hear him live. It was the first concert of the kind that I have ever attended, and possibly the last. Not to sound snotty, but I haven't attended such events. There are actually a few concerts I would take the time to see, partly because they are expensive, partly because there is too much trouble buying the tickets and attending. With the family, I attended the performance of Amadeus Mozart's "The Magic Flute" at the Met back in the 1970s. I had been to Yoyo Ma's concert at Carnegie Hall when he played the whole Bach Cello Suite over a 5-hour period (with a break for early dinner). A friend bought me the ticket. I had also seen the performance of Dmitri Shostakovich's Symphony # 13 (Babi Yar), with Yevgeny Yevtushenko reading his historic poem at Lincoln Center (another gift from a friend). My children and I were guests of a friend at a performance of one of Wagner's operas from the "Ring of the Nibelung" at the Met. I won't mention the other musical events in my New York sojourn. Anyway, Borgata was an unprecedented experience. The casino was crowded, with cigarette smoke suffocating the lungs and people walking like zombies or bending intently over the slot machines. Okay, I must confess I made short visits to Las Vegas (for school reunions) but most of them were spent driving out of the city to Grand Canyon or Lake Mead and Havasu. The Journey event gave me a great experience and fulfilled my wish of seeing Arnel in the flesh and standing along with the singing (and screaming ) audience. I am grateful that Norman took the time (and spent the money) to give us a rare chance to see Arnel whose life story from the slums of Manila to the top of the rock and roll world is indeed a fairy tale.
Al, my younger son, took me to see Wonder Woman after an early dinner of hamburger and a milkshake at 5 Guys (at my suggestion). I actually enjoyed the food and the movie. I thought Wonder Woman was an old Kung-Fu movie in modern dress. It had the same plot, Chinese martial maneuvers, and the same ideals of knight-errantry. Even the death of the heroine's partner hews to the old genre: often than not, perhaps out of puritanism or just the social and artistic convention, the man or woman dies or joins a monastery at the end. There is usually no future of living happily ever afterwards. If you have the time, go see the film. I've seen it two times already! One thing I love is that Al's wife Laura and daughter Ava were there, too, and it was refreshing to be able to talk to them about the movie and other things that are important to me. To digress a bit, many of my friends who share my interests live so far away and often I have to go to New York City to have a good conversation and to hear ideas I can sympathize with. The thing is that at my age, I prefer to withdraw from many social contacts and carefully choose the company I keep. Besides, nowadays, perhaps others have noticed it, too, there's more hateful rants being voiced openly and more aggressive racists seem to be coming out of the woodwork. Encounters like them are not much fun.
I have been reading a few books alternately – a few by the modern sage Nissagardatta "I Am That" Maharaj (who died in 1981), Arundhati Roy's "The Ministry of Utmost Happiness," John Hersey's "Hiroshima" and Alex Tizon's "Big Little Man: In Search for My Asian Self." Maharaj's lectures are a great, indispensable guide to my eastern studies and practices. Tizon's I am a bit vague about: I felt that perhaps he should have started off in quest of his Filipino self instead. It is sometimes lyrical and beautifully written. In any case, I did not think he found what he was looking for because he was looking in the wrong places. I promised myself I will read it again to see if I missed something. "Hiroshima" reminded me that I must have read parts of it before when I was writing my Hiroshima poems back in 1985. Hershey portrays a handful of Japanese survivors and what they were doing at the moment of the explosion. My "Old Calligrapher" paints that moment too but in the instant when a Buddhist priest is in meditation. The poem was critiqued in February 1984 by famous poet June Jordan at the Lafayette College Poetry Festival in honor of Theodore Roethke. She said "Hiroshima" was a "beautiful" and "gifted "poem. (Her hand-written letter to me – inscribed in a "depressing" motel in Easton, Pennsylvania — is somewhere in my old files.) I read the poem at the candle light commemoration of the 40th anniversary of the bombing of Hiroshima at the Peace Garden in Bathlehem, PA. I have since then developed the original into 2 separate but related poems. . What evolved as "Hiroshima Sutra" I read 20 years later in the commemoration at the same sacred place. Both are reprinted in the poetry section of the website on the anniversary of the bombing of Hiroshima this August.
Last May, I visited Florida to see my brother Rolly who was celebrating his birthday. He and his wife Vicky took me to Key West to see the Hemingway Museum. Keith Cini, a Tai chi, Chi-Kung and acupuncture colleague, came down to the dinner. I had not seen Keith in a decade. He and I study Traditional Yang Family Tai chi chuan under the masters of the tradition, he with Master Dimitry Mougdis and I with GM Gin Soon Chu. He studied Chi Nei Tsang with me back about 18 years ago in Boston and New York City.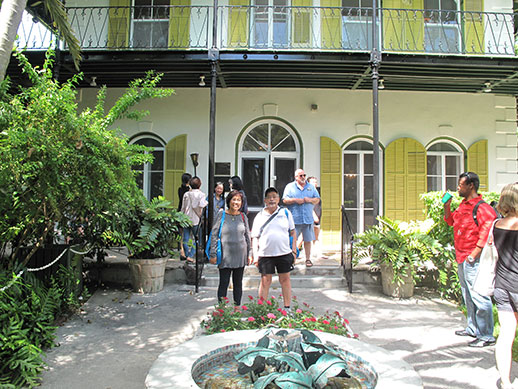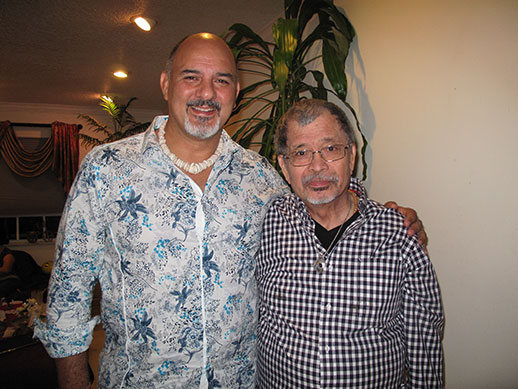 In closing, I would like to mention that my granddaughter Ava, and Sam Miroko of George School won for their documentary film "Being Other" in the competition of Quaker school students worldwide. Ava wrote a well-written critique entitled "Posers: An Examination of 'Rugged Individualism' in American Literature'" focusing on two novels – F. Scott Fitzgerald's "The Great Gatsby" and Jack Kerouac's "On the Road." She is a nationally ranked fencer in epee. You can watch the film at this link:
See you in September!
Blessings,
Rene