Hi!
I am getting ready to leave for the Philippines again. My departure date is December 4, with a short layover in Taiwan. My schedule includes a trip to Legaspi, south of Manila, where the active volcano Mount Mayon is located; a short trip to Hongkong to meet with friends from the Philippines and Taiwan; and several seminars in Manila. The seminars will cover Microcosmic Orbit Meditation and Xing Shen Zhuang Fa (December 9 and 10); Traditional Yang Family Tai chi chuan (first section) and Yi Jin Jing (January 27 and 28) ; and Taoist basics, DragonWell Qigong and the Buddhist qigong and martial form "Twin Dragons Chasing the Pearl" (January 6 and 7).
I have been reading different translations of and commentaries on the Bhagavad Gita. So far I have finished the versions of Gavin Flood and Charles Martin, Ravi Ravindra, Jack Hawley, Barbara Stoler Miller, Graham Schweig, and Swami Prabhupada, among others. I consider this reading, along with the Patanjali's Yoga Sutras, the Heart Sutra, The Upanishads and the Mahabharata, the most important I have done within memory. It is a life-changing exposure to eastern classics. I am amazed that I had not encountered the materials when I was younger but then with the lamentably westernized culture of the Philippines where I grew, these scriptures were not your standard reading texts. It is one of the ironies of my life that I discovered Asian culture – epics, sacred writings, meditation, healing and health concepts and practices, even Philippine stick-fighting — in the United States. I got a CD of the translation of and commentary on the Heart Sutra by Thich Nhat Hanh to make it easier for me to go through the passages.
I did begin studying eastern culture in the Philippines more than 50 yeas ago. I studied Shaolin/Buddhist Kung-Fu, Wudang Pa-Kua Chuan and Tai chi Chuan in Manila's Chinatown. A friend gifted me with a copy of the I Ching in 1968 but it did not make much sense to me at the time partly because it was presented as an oracle. It was only later that I realized it was actually a manual of internal alchemy. It was in the US, however, that I got into the heart and soul of Asian culture – acupuncture, herbology, massage, internal alchemy, astrology, feng-shui, chi-kung, and literature. My eyes were opened to the potential for human transformation through the Asian spiritual classics, healing modalities and training.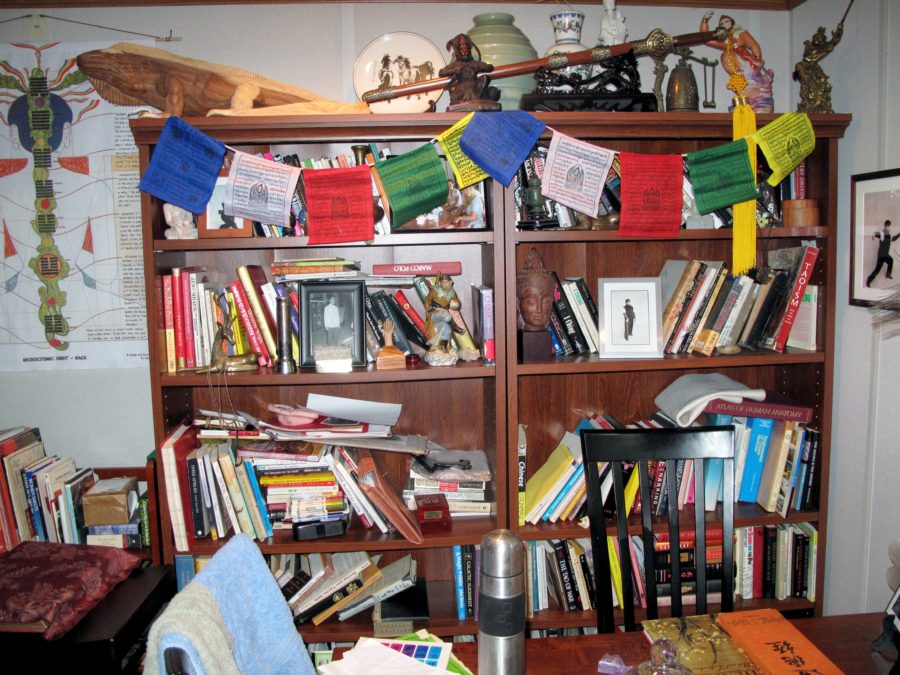 For the last few years, I have been shipping books to the Philippines. Many of them were given to organizations, some to friends and relatives. Some of the books I bought in sales at the Easton Public Library, most of them I bought from different stores and online. These are, of course, just a small portion of my collection. I intend to "cull" a bigger number of books to give to friends in the near future. If you are looking for a book, please tell me. I have shipped another 3 huge balikbayan (literally homecoming) boxes to the Philippines. There are now a total 12, 9 of them waiting for me the ylang-ylang farm in Estipona, Pura, Tarlac, where I will be staying and teaching private classes in Tai chi chuan and zhan zhuang. The books will be donated to the library in my hometown where I used to borrow books when I was in high school. I hope the children will have access to these materials that were not available to me when I was young. It's my way of paying back in a small way what I received from my hometown.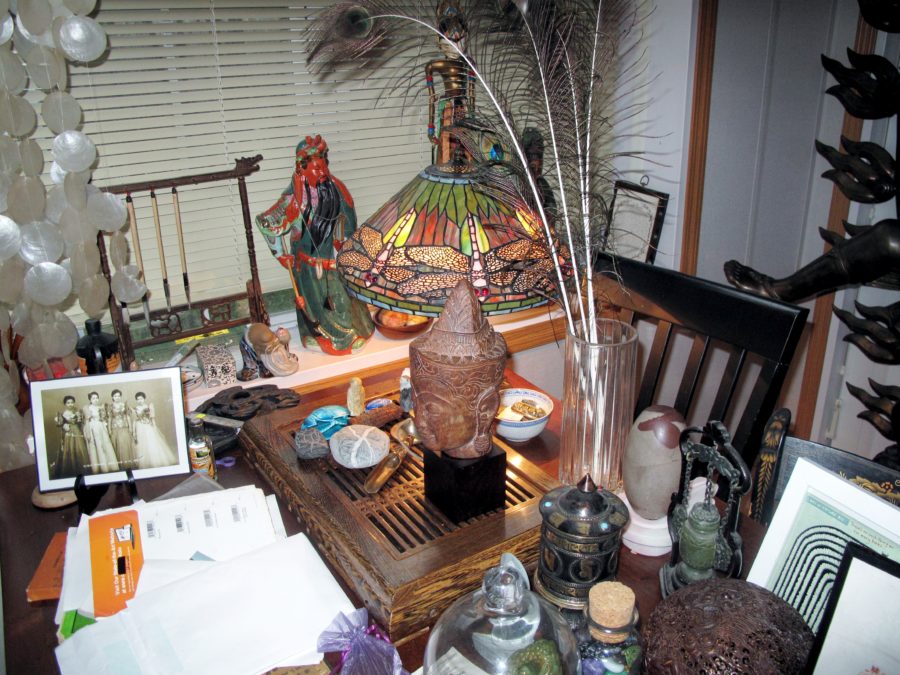 There are also artifacts and objects, paintings, etc. in this space I call The House of the Dreaming Dragon. (The statue was a gift from a friend and was done by Pokey Park.) There are swords, wands, canes, staves, rugs, batik cloths, posters. A Filipino who saw my collection asked me to inform him if I am going to have a garage sale. Well, I have no such intention or plan. Instead eventually I will give each separate item(s) to people who I believe have a genuine interest in them and can provide a "home." I will feature one or two items in my website so that you can see what is in my study.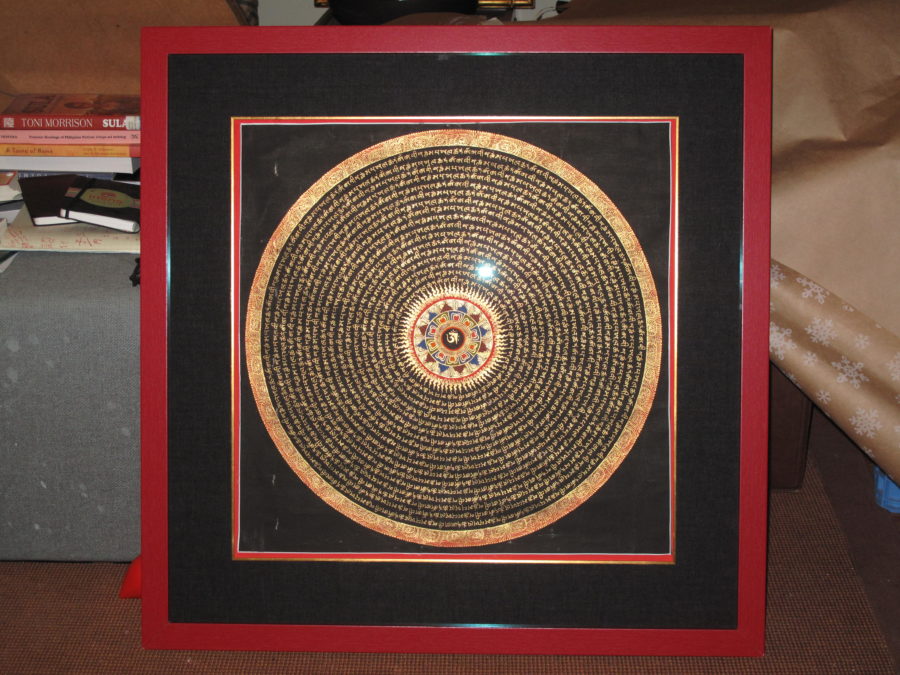 I've been following the PBS special The Vietnam War, that brutal and inhuman war that the Vietnamese people call the American War. I watched the whole series, one segment at a time. I was in Vietnam last year. Here is an excerpt (with revision) from my blog text at the time:
March 2016: a few days in Hanoi to see Halong Bay to fulfill my partner's dream of seeing this natural fantasyland before it gets too polluted to appreciate. On our arrival we learned that Vietnam was preparing to commemorate the anniversary of the massacre at My Lai where 504 unarmed elderly men, women and children were killed (the young men and women were out working in the field at the time) on March 16, 1968. We spent two magical nights and 3 days navigating the misted landscape on the boat LaFairy. Back in Hanoi, Pham the tour guide took me to the War Museum in Hanoi where, in the shadow of the wreckage of a B-52, she told me about the time when women who gave birth to disabled babies were ostracized because they were thought to have dealt with witchcraft until it was discovered that they were exposed to the herbicide Agent Orange, that there are still children who are born with indescribable congenital defects. Pham also said that even now, there are people dying from the millions of bombs and mines dropped on the countryside during the American war. As she spoke, she tried to suppress her grief and anger — and tears — but it was difficult, even for a Buddhist like her. "Why do human beings do that to other human beings?" she asked. As we walked away from the bombs, planes and tanks in the open museum, I told her that in the Philippines, Filipinos were massacred too during the Philippine-American War. "When was that?" she asked. "In 1902," I said, thinking of the village I visited on the island of Eastern Samar where General Smith ordered US soldiers to kill every male over 10 years old. For a long while, we were both quiet, two survivors of two different wars and two different countries.
End of quotation.
One of my favorite novels was published more than 30 years ago. Written by the Australian Morris West, "The Ambassador" depicts the dilemma of a US diplomat who is assigned to Vietnam. He has a zen master in Japan whom he consults at critical moments of his ife. The story goes back and forth between the Buddhist temple and the outside world. There is the realpolitik of war and koan exchanges. There is that painful chapter that portrays the ambassador's last days in Vietnam – the sad farewell poem from Li-Bai, one of the Tang classics, and the brutal assassination of the Vietnamese president. This masterpiece is out of print now, but you can probably get a copy from Amazon. I have been reading the book "The Other Shore," Vietnamese Buddhist monk Thich Nhat Hanh's translation of and commentary on the Heart Sutra/Vajnaparamita. (I have also read Red Pine/Bill Cooper's book on the Heart Sutra).
In a recent issue of the op-ed section of the New York Times Viet Thanh Nguyen, the Pulitzer Prize Winner last year for his novel "The Sympathizer," co-authored an essay saying that the United States government has done little for the victims and the polluted environment. Nguyen also wrote the memoir on Vietnam, "Nothing Ever Dies." (He was recently awarded a Macarthur "Genius" award.)
Except for a short line from the poetry of Ho Chi Minh, the PBS TV special did not show any Vietnamese art like poetry. Art is a powerful medium for protest and resistance. Some of the best Vietnamese poetry was written during the war. I would like to share some of my favorite Vietnamese poems and a few photos from my trip last year.
The first two poems below I found in a greeting card I have kept since the early 1970s. The last one is from a book of poems.
Vietnamese poems
Advice to Oneself
Without the cold and desolation of winter
There could not be the warmth and splendor
Of spring
Calamity has tempered and hardened me
And turned my mind to steel.
— Ho Chi Minh
From "The Song of the Fighters"
They rob us of our land and put it under their
ploughs,
They raze our homes and build military
outposts.
Crying will not dissipate our anger,
Imploring pity will not open the way to
salvation.
Guns and bombs are not our way of life,
We have never been friends of war;
But they have come armed to the teeth.
Shall we resign ourselves to slavery? Never!
Night after night under the palm trees,
Our land stirs, our people prepare for attack.
Our fighters' eyes shine in the darkness,
Watch the stars embrace the immense vault
of heaven.
Forward we march singing passionately
Of our beloved land. Our blood and bones
shall be our ramparts!
—Thanh Hai
Untitled: Poem Written in War
If only I might see you this afternoon. The mountain crossing,
the forest bend, the tree line.
I pass them and want to see you suddenly there,
leaning in the sunlight.
If I needed to march only from morning till night,
wanted only a fistful of rice,
if I followed only the world's ordinary time clock,
if I could see only your bright smile at the end of the day,
like the dawn just arriving.
I have dreamed
a day when
all the flowers
speak the language
of my love.
Four years of loneliness and longing
for you, your slender shoulder
pressing against me as I press against the road
all these months and years.
Days pass,
streams shimmer and sparkle.
In the clear sad light
I walk through the forest.
I know my people are suffering.
My soul is a flame fiercely burning.
The afternoon
at the end of the forest
exploding as if before a coming rain.
I hope that you make no other choice
but the burning lines of my poem.
In love with you,
my life is one vast oath,
an oath made to the months and years and the roads leading
to the future.
I've come to the threshold again.
A vow made to the music of the lullaby which keeps me awake.
A vow made to the song, the simple bowl of rice
we share, as we share the slanting sunlight
that falls on our house.
A vow made with our bodies
that we will always stay true.
Loving you,
I throw myself to the open fields
and a new ecstasy rings in my heart.
My love, this next harvest will be even more beautiful.
Our love will grow even more beautiful.
Like your eyes lit up in youth,
So dazzling, no words for it:
only the wind passing through us, this singing …
So many years I've walked,
passed between razor wire and thorns,
under falling bombs, raining chemicals,
my only meal greens from the trail,
nourishing a sacred regard
for freedom, for life,
for you
whom I will love until I die …
—Nguyen Khoa Diem
The poem is from the collection "6 Vietnamese Poets" edited by Nguyen Ba Chung and Kevin Bowen (Curbstone Press in cooperation with the William Joiner Center for the Study of War and Social Consequences) . © 2002 by the poet and translator.
I do not know who made the translations.