Just got back from a trip to the temples of Angkor Wat/Angkor Thom in Siem Reap, Cambodia; Vientiane and Luang Prabang, Laos; and Bangkok, Thailand. I have been to Thailand several times before, sometimes for a month at a time, in Bangkok and Chiangmai.
Well, I am terribly jet-lagged and trying to recover lost sleep and rest my legs sore from going up and down the temples. At my age, it seems to be getting more and more difficult to recover: I get sleepy at odd hours of the day, stay awake at night and in the morning I am in a daze. Here is what I was able to cobble together from the photos I took. I brought two cameras: a Canon powershot G9, a gift from my son Albert and his wife Laura, and an Olympus Camedia C 5060. The latter took excellent shots but broke down at Angkor Wat.
(Below is a selection of photos – to see the full gallery with larger photos scroll to the bottom of the page.)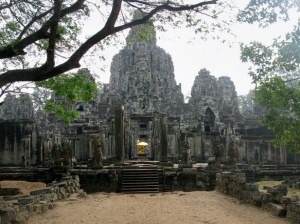 The different gates and temples with tall trees growing out of them. The umbrella through the entrance caught my eyes and I could not resist pointing my Canon powershot camera. There are many impressive sights in Angkor Wat and Angkor Thom, as if the jungle literally sprouted unnoticed for centuries, which is probably what happened before they were discovered again at least a hundred years ago. How did the Cambodians from the 12th century build these incredible edifices without cement and without nails and screws? And what kind of culture and civilization would construct such a temple complex? I had the same sense of marvel at Angkor Wat and Angkor Thom I had when I saw the temples and pyramids of Egypt.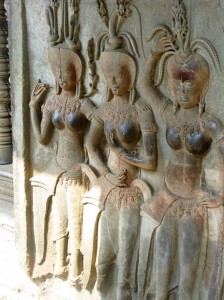 The 3 female statues in Angkor Wat are fondled well by unknown pilgrims, as we can see from the shiny and dark parts of their anatomy. Usually, among Christian saints, the feet or the hands are the objects of touching.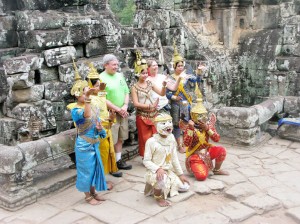 Like the Greeks and Indians, the Cambodians know the epics and myths as if the characters were part of their daily life. The photo shows the characters in masks from Ramayana: Sita, Rama, Hanuman and Ravana, among others.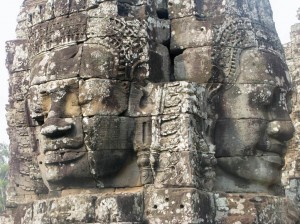 A photo shows two faces of Brahma. He was supposed to have had 5, the 4 to see the cardinal directions and 5th to follow his beloved consort Sarasvati. I read that the 5th was destroyed by Shiva during an altercation.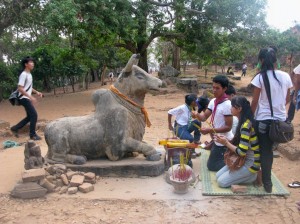 A photo shows a kneeling bull — Nandi — at the entrance to a temple of Angkor Thom. The bull is sacred, indeed a god in the Hindu pantheon. It is also considered the main vehicle of Vishnu. I lighted a candle and incense sticks at its feet.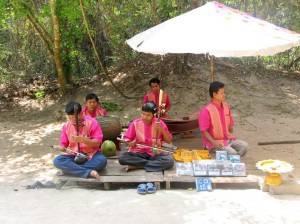 The musicians were disabled by the mines and bombs in Cambodia. Many of the unexploded cluster bombs, bombs and mines are still sitting in the fields in Laos, Vietnam and Cambodia where they were dropped by the US during the American War (that's what it is called in the region, not Vietnam War) and campaign of carpet bombing in the 70s. Many of these disabled men (perhaps they were children at the time they lost their arm or leg) were probably farmers working in the field. I have no information about Agent Orange in Laos and Cambodia, except articles and photos in the media, but even now there are children in Vietnam who are born with severe congenital defects apparently because of the chemical.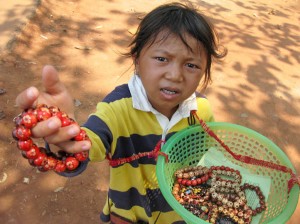 The children in the photos are some of the many small barefoot children who eke out a living selling native handicraft. It reminded me of the time in the late 40s when I was a kid selling chicklets/chewing gum at dances in the basketball court in the old hometown.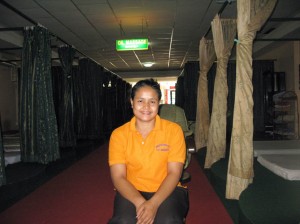 The best Thai massage on this trip was in Siem Reap, Cambodia outside of Angkor Wat from a young girl who studied in Thailand. Her name was Shante … perhaps spelled Shantih as in the Upanishads. She had one of the most composed faces I had seen during my recent journey. That's she who is smiling at the camera. I asked for an hour of foot massage but when I realized she was good, I asked for another hour of full-body Thai massage. I came back the next day after the tour of Angkor Thom. Two of the best body-workers I know are from Chiangmai. Last time I was in Chiangmai in September, I called them on the phone but I was told I got the wrong number. Sadly, these bodyworkers receive only a small fraction of the fee (about $2) from their employers; without a generous tip from the customers, I do not know how they manage to survive.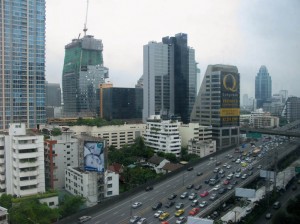 It is always amazing to travel through Bangkok, with its variety of colors and neighborhoods. Temples and Buddha statues sit side by side with shopping malls and pedestrian markets. Restaurants, massage parlors, and stalls selling native handicrafts can be found in the red light district.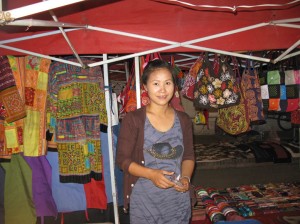 The Night Markets in different cities — Siem Reap, Cambodia; Vientiane and Luang Prabang, Laos; and Bangkok, Thailand — are often visited by tourists who are looking for bargain goods and native products. They also offer cheap meals and massage, especially to young European backpackers on a limited budget. If you are on a tour you'll invariably be taken to silk factories, ceramic shops, woodworking centers (using teak wood) and silversmiths. A photo shows a young woman in Luang Prabang. I bought a couple of dragon bracelets from her. After paying, I discovered that the horn of one dragon was broken. She took it back and asked me to return the next day for the replacement. I did go back and she had a new bracelet for me. Every day, these vendors would set up their goods — sometimes hundreds of miniature buddhas — on a carpet and when they were done, they would pack them all over again. Haggling is an accepted mode of negotiation in many countries in the Third World. Remember to go to about 1/3 of the initial price and take it from there. You'll be surprised to find out that the vendor is actually willing to accept your offer.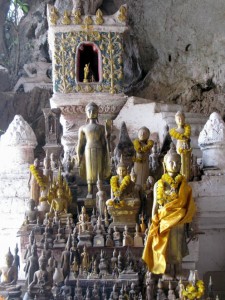 A truly relaxing divertissement was a trip upriver on the Mekong. After two hours on a boat between Laos and northern Thailand, you'll reach a granite mountain. Climb the steep stairs and you'll find yourself in a huge cave with a thousand buddha statues of differing sizes. There are restaurants on the river with river fish on the menu, along with papaya salad, tom yum soup and pad thai. Remember to avoid raw food. One useful rule from a travel guide: do not eat food that is not cooked; do not drink water that is not boiled; do not eat fruit that is not peeled. I learned my lesson from the time my friend Chaiyuth Prasingh, took me to a greasy spoon joint and ordered noodle soup with raw egg for breakfast. I was too timid to object. A couple of weeks later, I had an ulcer. This respected master died from a heart attack about 5 years ago probably from overwork. Arguably the best masseur in Chiangmai, he gave 4-hour massages and worked past midnight in some cases.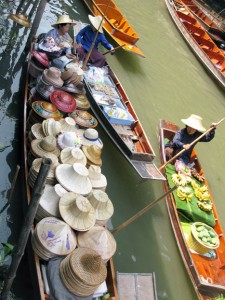 The trip focused on the temples but it was nice to sail along the canals outside Bangkok and see the Floating Market. I realized after seeing so many temples that you can get templed-out! Bangkok is heavily polluted and crowded. But the people have such a stillness about them, you do not notice that you are in one of the most densely-populated cities in Asia. Probably it has something to do with the fact that at least 90% of the people are Buddhist.
The idea of "jai yen,"or "cool heart," according to the travel guides, is embraced wholeheartedly by the Thais. So they would say "mai ren pai" (never mind, what can we do, forget it) when something unpleasant happens. One time, a group of us from the Tao Garden in Chiangmai were in a car and nearly hit a Thai couple on a motorcycle. It was a "close shave" or a "near-miss." But the couple just smiled and went on their way. Small wonder Thailand is called the land of smiles. They have a deep belief in karma, serendipity, fate and synchronicity, so whatever happens is taken as a part of destiny. For instance, the siting and geomancy of Wat Phrathat Doi Suthep in Chiangmai, one of the most beautiful temples in the north, was arrived at randomly, almost by "accident." A white elephant was allowed to wander up the mountain and when it stopped and died from exhaustion, the spot where he lay down was chosen as the location for the temple.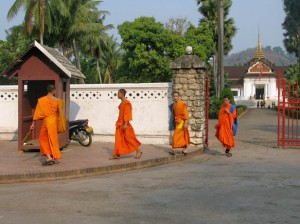 If you are interested in meditation, do not expect to be able to do it in the temples. There are too many tourists walking back and forth and offering incense and flashing cameras. You can join one of the temples that offer a free room and food and an opportunity to join in the chanting. I have never done it myself, but a few of my friends have and they spoke highly of the experience. There is a temple in Doi Saket, Chiangmai, about 45 minutes northeast of downtown, that sits on a mountain and has some of the most interesting paintings on the wall. The temple has a school for monks and probably accepts lay guests.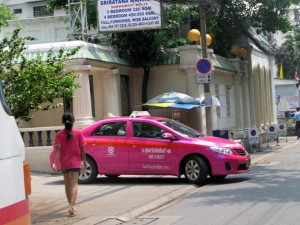 The pink taxi is a common sight in Bangkok.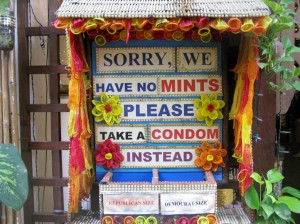 The poster is from the Cabbages and Condoms restaurant in Bangkok, a project of the Population and Development Association (PDA), that has several branches in Thailand. PDA was initiated by Vichai Virabaldya ( I am not sure about the name and identity). It has different projects: free vasectomies, income-generating programs in villages, mobile clinics, reforestation, health education, safe sex and family planning, among others. Cabbages and Condoms is a very unusual place that is located near the red-light district! When you eat at the restaurant you receive colorful condoms with the bill! The restaurant has a handicraft store too vending native products, shirts, skirts, coffee cups (with photos of condoms), scarves, headgears made by women from villages around India, China and Thailand. Well, the food ain't bad either! Try something different from Pad Thai and spring rolls like the steamed whole bass with lemon. It is a very popular Thai dish and is served on a fish-shaped metal tray over charcoal. Warning: it is very spicy. When I had it a couple of times at Cabbages and Condoms, it had at least 10 spicy red and green pepper. I also had it many times at the Night Bazaar in Chiangmai. Seems like even if you tell the waiter to cut down on the pepper, the dish always comes with the chopped pepper scattered almost irretrievably in the broth.
I met a Japanese girl who, like me, was waiting for the sunset over Angkor Wat from the top of Angkor Thom. I do not know how it happened, but as we were talking, she asked me where I was from, I said Philippines and I began humming a Japanese folk song, Sakura/Cherry Blossoms, and she joined me. Before we knew it, we were humming another tune, probably the Bridge to Edo. Three days later, when the tsunami and earthquake hit northern Japan, I thought about her. She gave me her name but not her address. She showed me the journal she was keeping of her travels. Every so often I think about her wondering if we will meet again.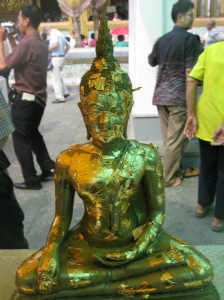 In Siem Reap, Cambodia, a fellow tourist asked me why the Philippines does not have these Buddhist and Hindu temples and culture. It was not a well-thought out answer I gave at the time, but in retrospect, I can say within this limited space that the Philippines is geographically isolated from most of Asia and did not receive a significant influence from these two religions. While Buddhism and Daoism were introduced to Korea and Japan and Hinduism to Indonesia, Ceylon, and other countries, the Philippines "came under the influence of Spain and Roman Catholicism." (The words in inverted commas are a euphemism for conquest.) And then in the late 1890s, the US invaded the Philippines and introduced Protestant Christianity (Methodist and Baptist). A wit remarked that the history of the Philippines is "300 years in a convent and 50 years in Hollywood." A partial result of these conquests is that instead of the Mahabharata and the Ramayana and Journey to the West, the Philippines has the Odyssey and Iliad; instead of Laozi and Zhuangzi, we have Socrates, Plato and Aristotle; instead of Li Bai and Dufu, the Philippines reads Shakespeare and Longfellow; instead of Daoism and Buddhism, the Philippines has Christianity. I will write about this part more fully later.
Oops! I inadvertently attached the photo of a huge sign from the produce section of  Wegmans, a popular grocery store,  in Nazareth, PA.
Full Photo Gallery: click on the thumbnail photos to see the full-size version.