1. Ed Maranan, Carlos Palanca Hall of Fame Awardee for Literature, to my right. His sister Ellen is to my left. I was his guest at the dinner ceremony.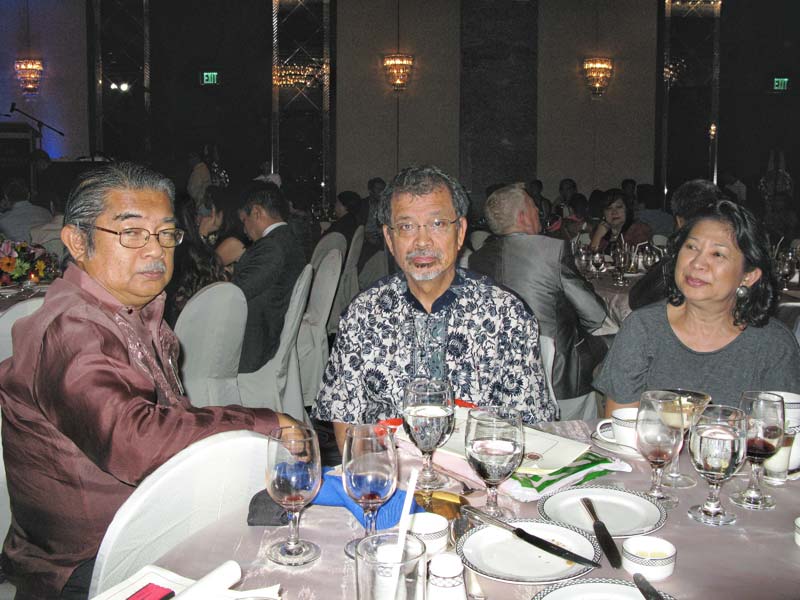 2. Group shot of writers at the Carlos Palanca Memorial Awards for Literature ceremony at the Peninsula Hotel. In front of me (seated) is Alfred "Krip" Yuson, professor of English literature at the Ateneo de Manila University.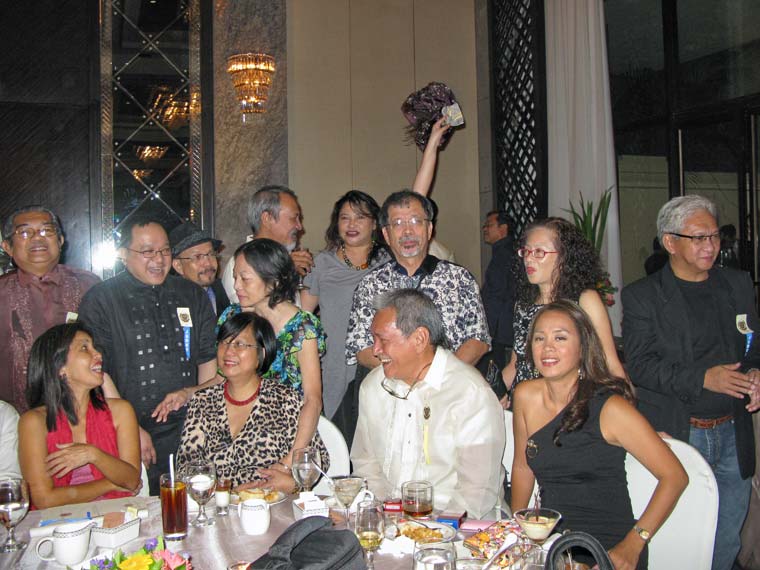 3. Seated from left to right: RJN, Krip and Edgar.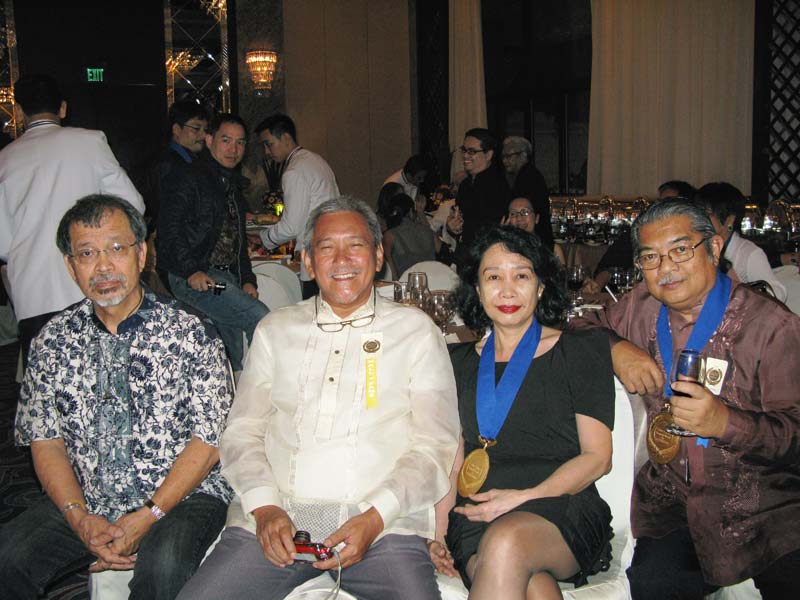 4. RJN, F. Sionil Jose, and Edgar. Frankie S. Jose is a national artist for literature. I met him a few times in the course of 50 years in conferences, at his bookstore Solidaridad, and at the PEN congress in Cebu City. He was the speaker.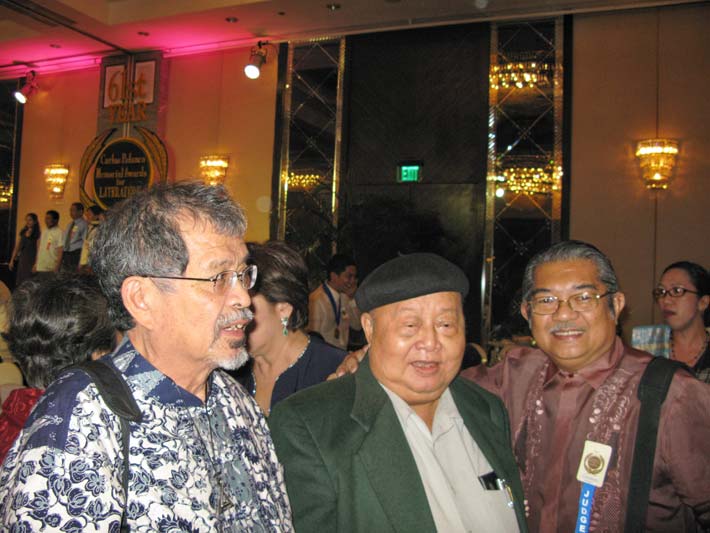 5. Edgar Maranan, who invited me to the ceremony, receiving his prize in the raffle in the amount of P50,000 roughly equivalent to $1200. Before the winner was announced, Ed said that he never won anything. I said he will win. A few moments later, his name was called from the stage. Coincidence?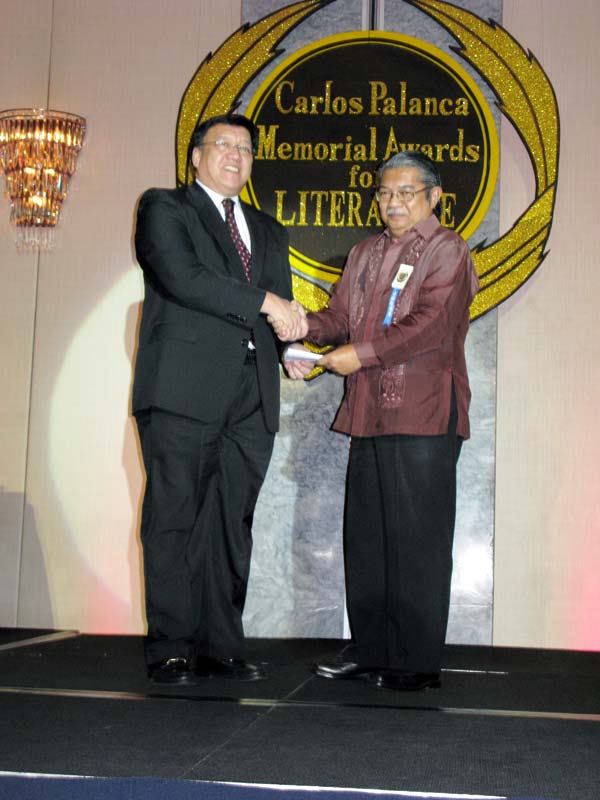 6. Ed and Rene with Mikael de Lara Co and his wife. Mikael, an award-winning poet, read "Immigrant" by Lourdes Marie S. La Vina, prize-winner in poetry.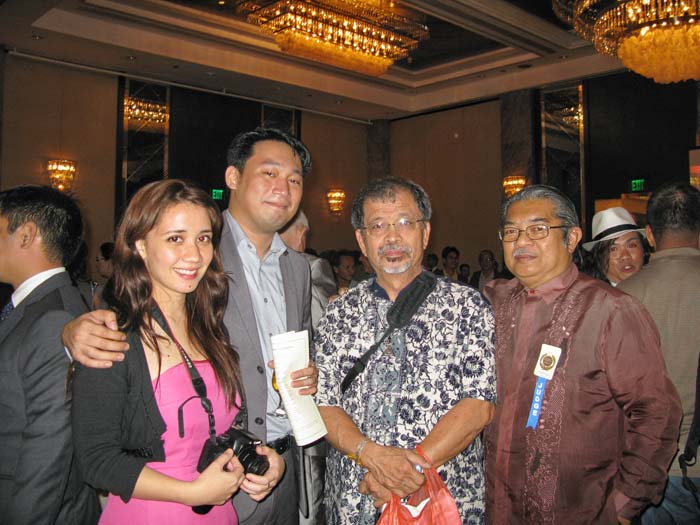 Post scriptum:
Ed and I first met in London about 7 to 8 years ago. He invited me and Patrick Rosal, a prize-winning poet from the US, to read at the Philippine Centre at the time. Ed and I used to have dinner together with Paolo Coghe of Sardegna, at a flat in Barnes overlooking the Thames. I cooked, Ed brought a bottle of wine. We had memorable and extended conversations about politics, religion and literature (sorry, nothing about sex, GBS).
Ed and I have met since then in Manila. He was my guest at my seminar on Tai chi chuan last time I was in Manila during my 70th birthday. To receive a Hall of Fame recognition, a writer has to have won at least 4 first prize awards in the main categories.
It was the first time Alfred "Krip" Yuson, a professor of literature at the Ateneo de Manila University, and I met although he and I have known each other through our literary work for years. He probably recognized me from my photo somewhere and approached me to say hello. Great to finally meet you, Krip. A much-awarded writer, fictionist and poet, Alfred has included my poetry in the books he co-edited: "Eros Pinoy: Erotic Poetry and Art in the Philippines," "Father Poems," and "Love Gathers All," a book of love poems published simultaneously in Singapore and the Philippines. Believe it or not, Krip honored me with a complimentary cameo appearance in his award-winning novel "Voyeurs and Savages." Please note that I was neither one of the voyeurs nor savages he was writing about. If you are curious about this bit, tell me and I will send an excerpt. It is amazing to appear with my real name in this work of "fiction."