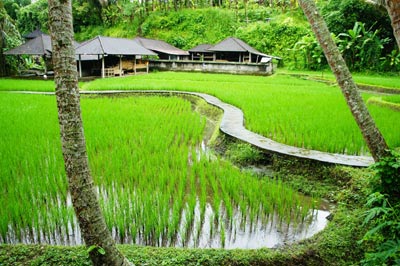 A rice field somewhere in Ubud. Photo by KJ Lau from Hongkong.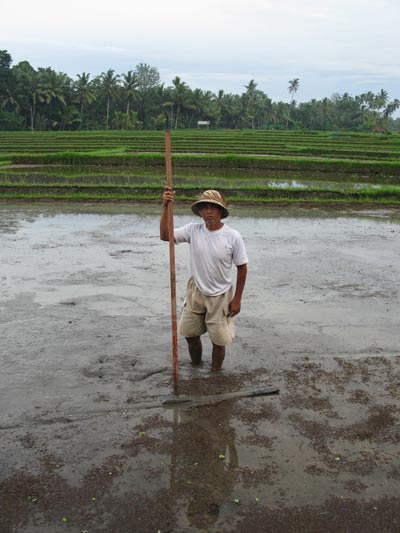 It was the rainy season in Bali. Every day it rained. The view from the house was all green — the rice fields were being harrowed, the last stage before planting, and soon was going to be planted one by one in symmetrical lines by a group of farmers, both men and women. I noticed this farmer every day faithfully caring for the rice fields. He trimmed the grass along the paddies, directed the water along the canals, and even when it was raining, he was there with his coconut leaf hat as his only protection.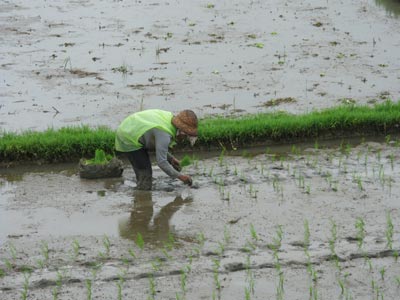 A farmer planting rice seedlings in symmetrical rows. Imagine the discomfort of bending to plant each rice seedling row after row, hectare after hectare.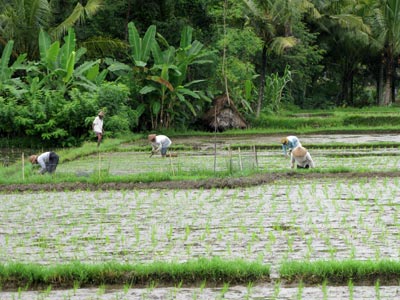 A group of farmers planting rice. A common scene in Asia. In the Philippines, volunteers ("sugu") would come to help in a work called "bayanihan" (after the word "bayani" or hero) whether it was to move a house, repair the dam or anything that would require communal effort. In my grandfather's farm, the volunteers would be fed rice, mung bean soup (probably with the young shoots of bitter melon) and "tinaklub," a triangle of muscovado sugar.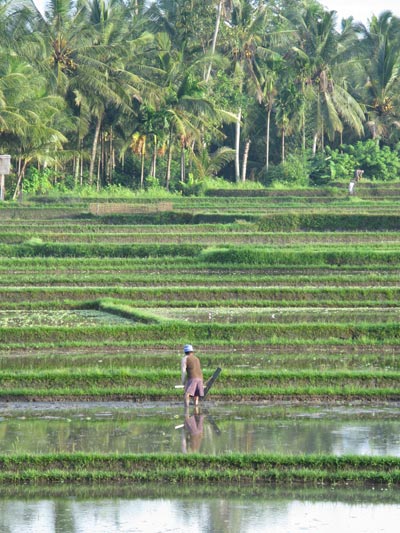 A farmer harrowing the flooded field. At this stage, the final preparation for planting the rice, a type of cricket called "camaru" emerges and is collected. Fried with garlic and spices, it is a delicacy in many countries.


The trees, home of the spirits, are venerated. When a Balinese cuts down a tree or kills a animal for food, he first seeks its permission. There is a close relationship between human and nature and the spirit world.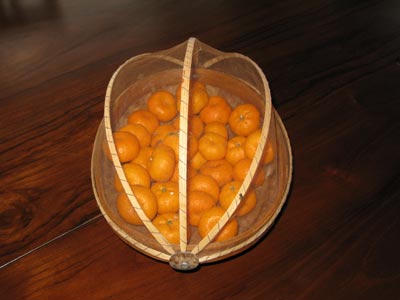 This bamboo basket is one of many utensils that was made by an expert hand. Baskets are woven from palm leaves, rattan or bamboo or carved from wood. Dippers are made from bamboo or coconut shells. Bones are carved into figures like the characters from the Mahabharata. I bought a coconut shell etched with the faces from Ramayana — Rama, Sita, Garuda, Hanuman. Many of household utensils are hand-made, but mass-produced goods — usually plastic, are sneaking in.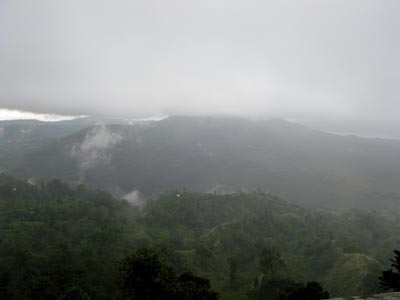 That's one of the active volcanoes in Bali. One time it exploded suddenly, without much warning, devastating a large area and killing many in villages around the vicinity. Enroute to a temple, when we wanted to see the volcano, there was a mist. We thought the mist would evaporate, but when we came back, there was an even thicker fog. We could not see anything infront of us. "Use your vision," Nikolay suggested and we all laughed.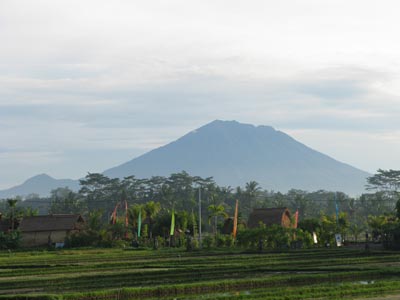 View of a volcano from the balcony in the back. Often the volcano was misted or completely invisible. It was a pleasure watching it from a distance.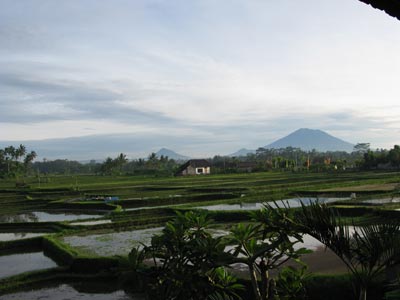 Another view of the mountain from the back of the house.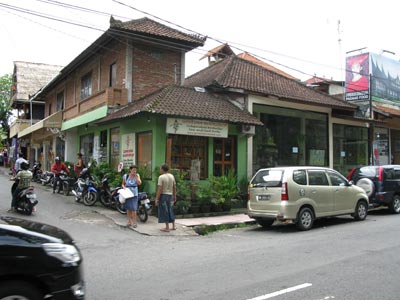 Ganesha Books is right in the heart of downtown Ubud, next door to Bali Buddha, an organic bakery, and the Post office and just a short walk to Om Cafe serving organic drinks and cakes. In between, you'll navigate streets full of stores vending all sorts of goods — native handicrafts mostly — and cafes. There are Tibetan stores with bells, singing bowls, bhurpa, thanka, dorje. Haggling is part of the tradition, so go down by half or 2/3 and negotiate it from there. You'll also see a few children begging. Bring some change for alms. NB: Ganesha has an excellent collection of new books on Indonesia (culture, religion, handicraft, art, artifact) and used books from the West. I did not buy any of the new because I thought they were rather expensive.I did buy book markers made of bamboo.


You can rent a scooter. But forewarned,forearmed: the roads are difficult and dangerous to travel, especially in downtown and along the arteries. Aside from having to drive on the left side, the traffic is idiosyncratic and insane. The traffic in Bali is the craziest I have seen anywhere because there are trucks, cars, scooters, motor cycles, buses — all of them trying to hog the road. I do not know if it is true, but I heard that no driving test is required, all you have to do is pay for the license and you are let loose on the road. Even if you do not believe in Ganesha, the elephant god of beginnings and the arts, you are advised to offer some flowers and incense at his altar.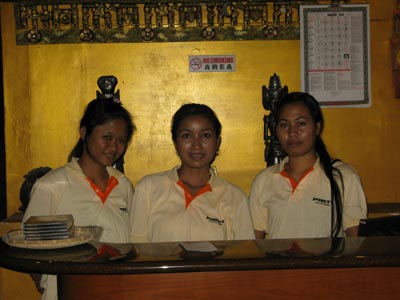 There are many "massage parlors" in the area, especially downtown, offering different spa services: hot stones, essential oils and flower essences, foot bath and massage, reflexology, sports, herbal sauna, Thai. You can actually combine different techniques from the menu of techniques. In the center of the photo is Len, a married woman with a child, who worked on me a couple of times. For the foot massage, including shoulders, the fee was about 60,000 Balinese rupiah. (The exchange was about 900,000 BR to $100.) I did not ask how much she was paid by the establishment. Always, give a generous tip.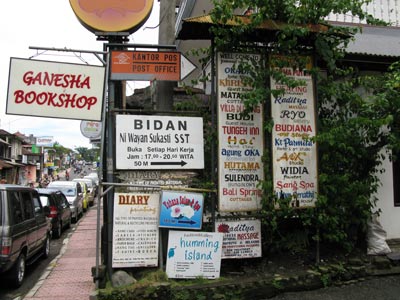 As you can see, this street is crowded not only with stores but also but tourists and scooters. It is probably the heart of downtown.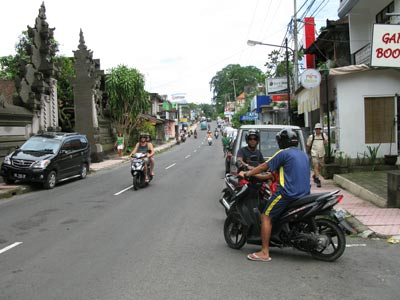 That's the main drag of Ubud. I can't remember its name now. Hanuman? There were huge statues — Arjuna from Mahabharata and Sita from Ramayana — on main intersections. I did not spend a lot of time downtown. I bought postcards or saw the ubiquitous money changer or had the occasional dinner with friends.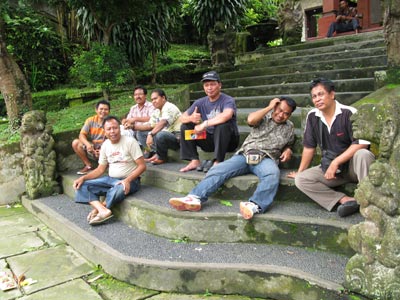 There were always idle taxi drivers waiting across from Ganesha Books. They thought I was Balinese. When they asked me where I came from, I challenged them to guess. I would give them 3 chances, I said, but they said, Chinese, Thai or even Mexican.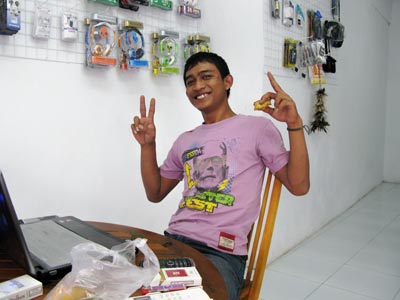 I got his name but promptly forgot it. He helped me charge my 2 camera batteries without trying hard to sell me anything. He was very patient, looking for the right charger. He found one and told me that it would take 2 hours for each battery, that I can come back later in the day. But I had no transport, so I signed up for a massage next door, listened to gamelan CDs at a sidewalk stall and joined Marina and Nikolay at Om Cafe. Only one battery was charged, the other was apparently dead. It is one of the hazards I've encountered in my travels. In Java, my camera died and won't take a photo of the Magus. In Bali, the batteries died a couple of weeks into the trip and the G9 Canon fell into the water when my feet skidded on a mossy surface. It occurred to me that perhaps the spirits were preventing me from taking photos of some objects, people or rituals. I wondered if it happened to other people, too. Later this man in the photo volunteered his companion to drive me home in his scooter at night. It usually took only10 to 15 minutes to get to the house, but we apparently got lost. He got me home in the outskirts of Ubud in an hour and 30 minutes.