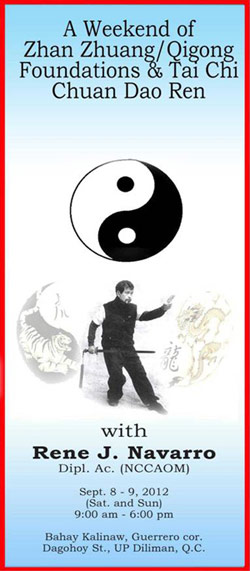 Zhan ZHuang/Qigong Foundations
Sept. 8 / Saturday / 9AM to 6PM
This seminar sets the foundation for many healing, self-cultivation and spiritual work. Too often neglected, these postures constitute the structure without which many practices cannot be done. How do you start? What do you do? What is the position of the spine, the pillar of many practices? The paradigm will be set on this workshop so that you will see what us the Daoist body, the energetic relationship of different energy centers. Important concepts are are discussed and performed: body positioning, alignment, breathing, emptiness, the dantian, qi, and transformation. Included: Embracing the Tree, Opening Tai Ji, Heaven and Earth, Dai Mai Circle, Pushing. This subject os strongly suggested and recommended for those who are taking Tai Chi Chuan Daoren or any other meditative and healing work.
Tai Chi Chuan DaoRen
Sept. 9 / Sunday / 9AM to 6PM
Tai Chi Chuan DaoRen is a short version based on the traditional Yang Family form. Requiring little space and time, it contains the 4 classical temple core movements of Tai Chi Chuan. Its unhurried pace promotes relaxation, centering, joy, calmness, gentleness, and inner peace. Tai Chi Chuan DaoRen begins with a Qigong signature movement and draws energy from Heaven and Earth and activates the Dan Tian (Field of Elixir) center. After 40 years of practicing the art, Rene J. Navarro choreographed this form showing the reality of energy as the student moves from posture to posture repeated in a clockwise direction. The from takes you to different levels of experience the way Tai Chi Chuan should be dome: magical, playful, joyous and shamanic.
Venue
Bahay Kalinow, Guerrero cor.
Dagohoy ST., UP Diliman, Q.C.
Course Fee
Full payment of P 3,000.00 on site.
Full payment of P 2,700.00 on or before August 1st.
Full payment of P 2,500.00 each for a group of 3 persons or more on or before August 1st.
For inquiries and reservations, please contact:
Florante J. Navarro
Email: florantejnavarro@yahoo.com
Mobile: (0917) 522-3008