The birthday banquet of GM Gin Soon Chu at the Imperial Garden in Boston's Chinatown: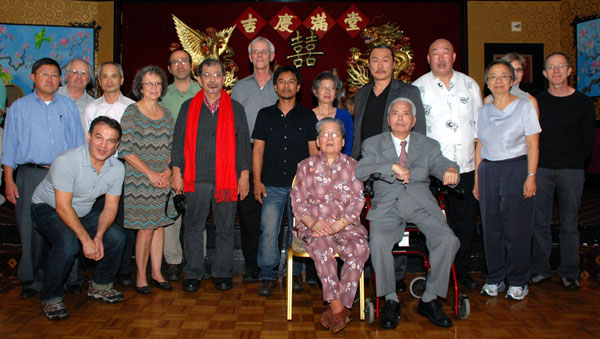 GM Chu Gin Soon with his senior students at the September 22 celebration of his birthday.  I recognize Linda, Peter, Mary Beth, Phil, Arthur, Jean, Michael, Arthur and a few other faces. Just behind the celebrant is Kim shifu, his second disciple. That's me  with a red scarf. There were at least 200 in attendance, mostly the master's students from the last 40 years.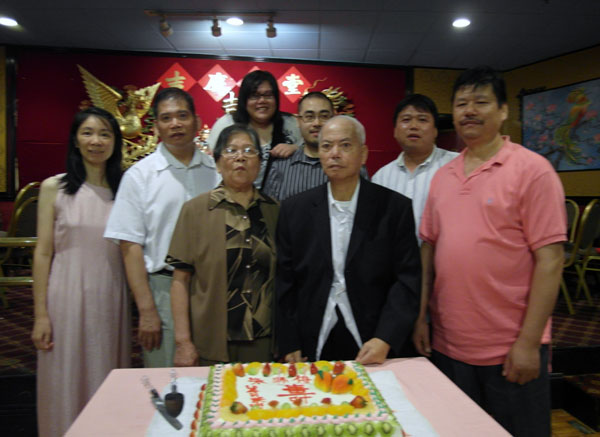 GM Chu Gin Soon with his family at his recent birthday banquet in the Imperial Garden Restaurant in Boston's Chinatown. The Chu clan was also present.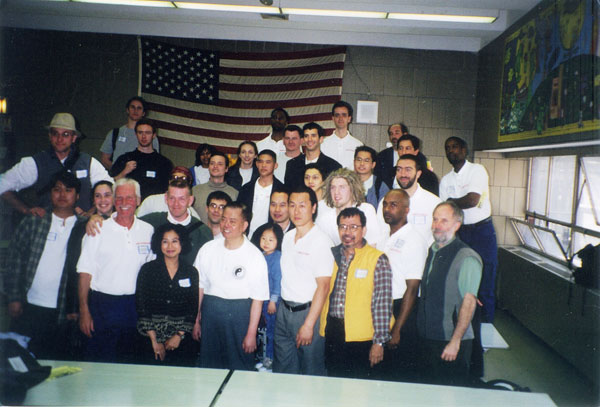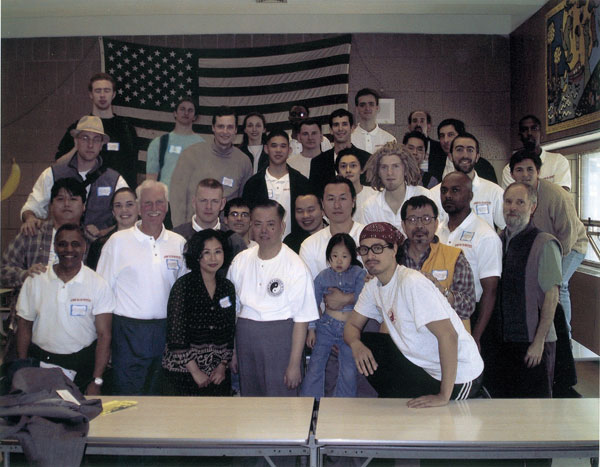 GM Chu with Kim shifu and other students during a demonstration of martial arts in NYC. Undated.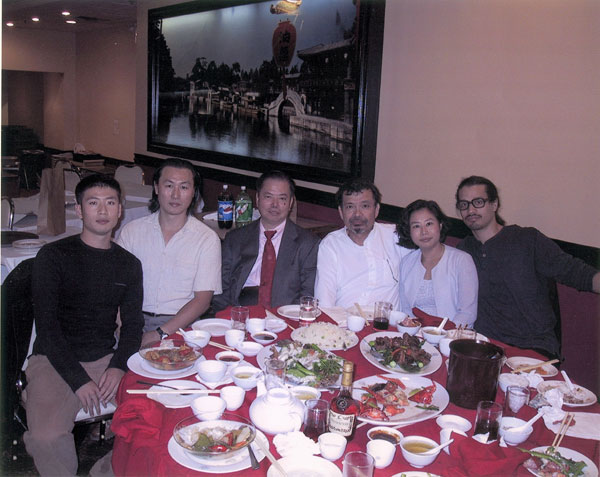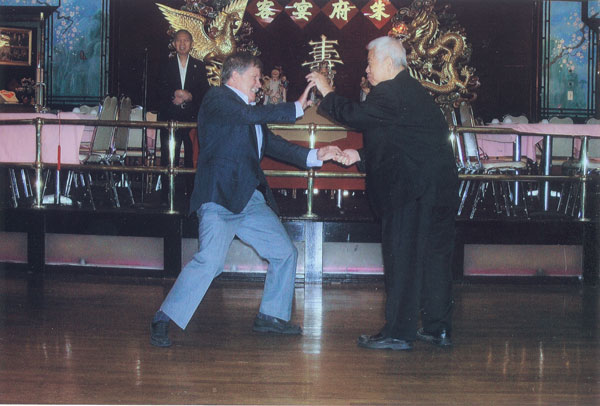 I cannot remember when these photos were taken exactly. But it was at another September banquet, which was held on GM Chu's birthday. Chu shigong had time to pose for photos and to Push.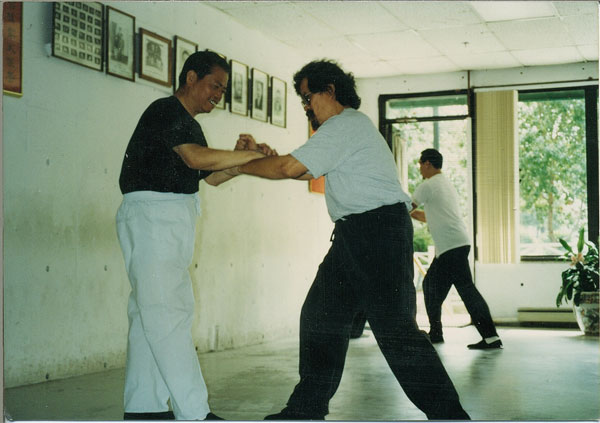 GM Chu Gin Soon doing Push Hands with me in 1992. The school was located on the first floor of the Turnpike Tower Apartments at the time until it moved to its present location on Harrison Street corner of Beach. When the school, the oldest in Massachusetts, opened in 1969 it was located in the building across the street. The present address is on the second floor and is more spacious. if you are in Boston, visit the school and see the students in training.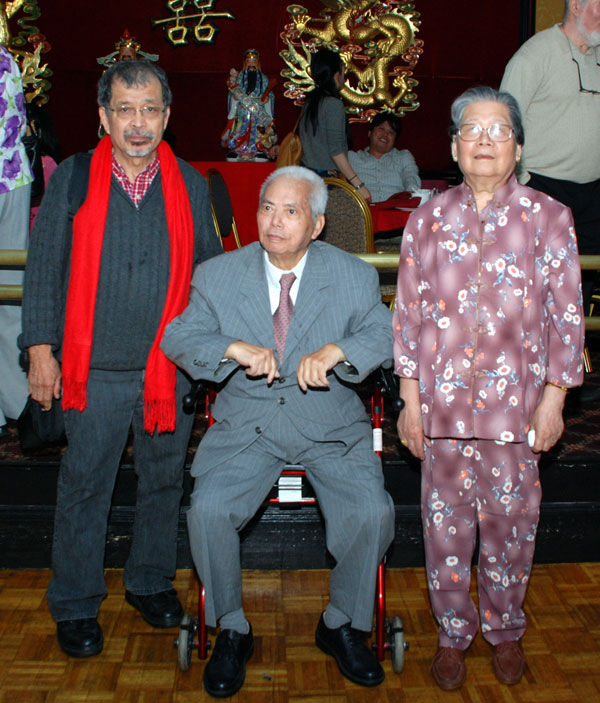 With Traditional Yang Family Tai chi chuan Grandmaster Gin Soon Chu and his wife at the birthday banquet in the Imperial Garden Restaurant in Boston's Chinatown last September 22, 2012. I have studied with GM Chu since 1990. See essay "Looking for Yang Cheng-Fu" in the Writings section of this website. He has the most comprehensive knowledge of the Yang Family system. His mastery of the 34 fajing techniques, the curriculum, and the process of teaching is beyond words.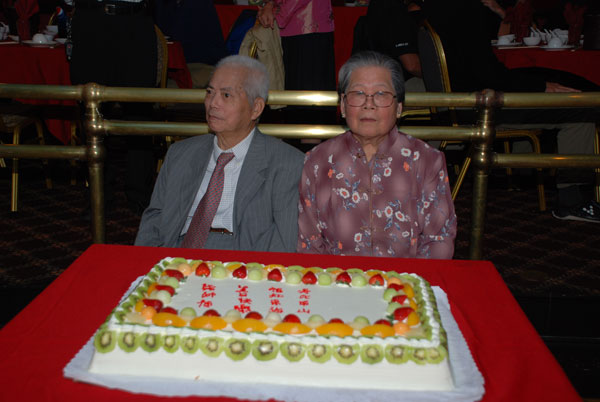 Celebrating his birthday with a traditional  Chinese banquet and a cake, Grandmaster Chu poses with his wife. The party was attended by at least 200 of his admirers, students, family and relatives. There were countless toasts, photo ops, Tai chi performances and speeches.  It was a spontaneous and indescribable  outpouring of love, respect  and admiration for the Grandmaster.