Dear Subscriber:
I have neglected the easy chore of sending the materials to post on the website. I spent the time reading books (among them, Helen Macdonald's H is for Hawk, a large set of materials on the divine feminine and the goddess, and Harper Lee's Go Set a Watchman) and going to the gym and organizing my basement library. Now it is nearing Autumn and there's a lot of things I have to do – things I have put off for sometime now.
I had intended to include several of my writings, including a poem on Hiroshima, a version of which I read in 1985 and then again about 10 years ago at the commemoration of the bombing in the Japanese Peace Garden in Bethlehem, PA, and a short essay on a visit to Cyprus. But I was overwhelmed by a busy schedule – attending family affairs, graduations, and parties, and professional and educational activities, some of which took me out of town. So I decided to post only some photos from Peru (in the blog), the Hiroshima Sutra poem (in the poetry section) and a report on an episode with the police (in the blog).
So I don't have much to offer this season. But the next edition will be different. I have just returned from a journey to the Silk Road (from Xian to Dunhuang and Urumqi, including a couple of days in Beijing). I have likewise attended the 85th birthday party of my Taijiquan master Shigong Gin Soon Chu in Boston's Chinatown just a day after arriving home at midnight on September 18. Next year will also be busy: I have been invited to make a presentation as a consultant and teacher at an international conference for blind bodyworkers in Manila in May 2016. I have had several experiences teaching massage seminars to a visually impaired group in the Philippines last year. My students in the Philippines have decided that I will teach a seminar on internal organs massage to blind practitioners as a follow-up to the conference. I am not sure about attending, but there's a Daoist conference in Taiwan that the scholar and writer Livia Kohn is organizing in the same month next year.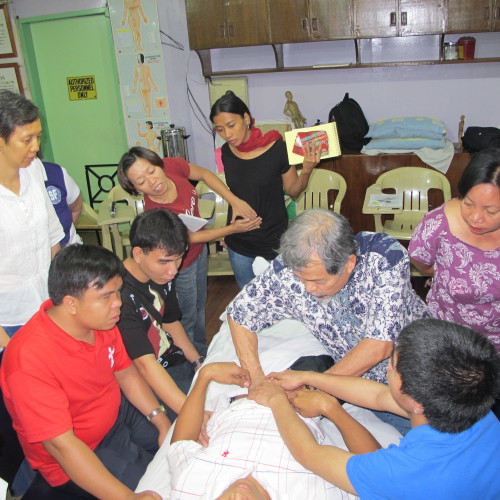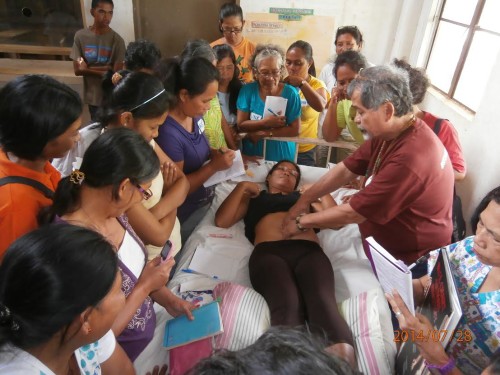 My basement has no name yet. I thought of Dragon's Cave or Lair but that seems too pretentious. Because it is the place where I retreat to listen to music, write or read, I thought of calling it Hermitage or Refuge, but neither of them is really an accurate reflection of its purpose. Friends visited (I cooked for them). Students are beginning to drop by for lessons. John, a new student, brought his cello and played pieces from the classical repertoire after his session. Ava, 15, and Isabel, 17, granddaughters who will be off to their schools (the first to board in Dobbs Ferry and the second a college in Delaware) spent a couple of days studying DragonWell Qigong, arnis de mano/Philippine stickfighting and meditation with me. Well, the cellar will remain nameless until it defines its nature in the course of time. Right now, many of my books, travel photos and memorabilia, artifacts and gifts, have found a temporary home. My record collection, many vinyl, is more or less organized: Beethoven and Bach and Berlioz sitting side by side, sacred chants from India and Tibet in plastic containers, so are readings from Shakespeare, Homer and others.
Upon seeing the basement, a Filipino who came up to pick up 4 boxes of books to be shipped to my friends and relatives in the Philippines, said that if I have a garage sale, I should inform him about it. I fell to thinking: when I go, my precious collection will be sold in the driveway, books for 10 cents each, even the first edition copies; the paintings and rare swords and other artifacts will be marked down and taken by strangers? Nowadays, who appreciates the intellectual and sentimental value of objects that a passionate collector has invested so much to acquire? What is that Tibetan thangka painting from a friend worth? How about that antique book about Women in Sacred History written by Harriet Beecher Stowe that a new friend gave me? And the Indonesian keris supposedly from the 12th or 13th century that has a special place at the altar? Believe it or not, I still have Jose Garcia Villa's "Selected Poems and New" I bought with my meagre allowance in the late 50s when I was still a 16-year old freshman in college. Who would care for some of these treasures that have given me untold hours of joy and stimulation, that I have kept all these years? Perhaps I am just being sentimental, but it is a sobering thought.
All the best, as always,
Rene