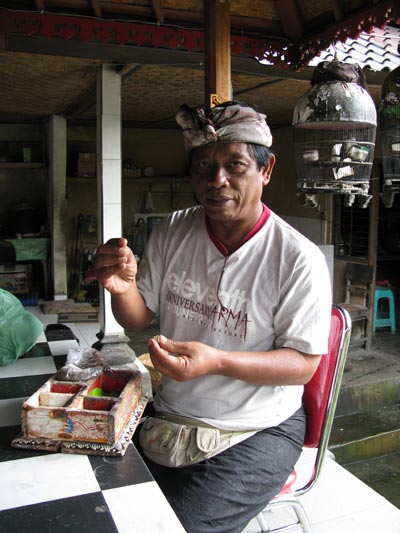 That's Agung, our tour guide and translator, with a box containing betel nut, lime, leaves and tobacco. Part of a traditional ritual in the villages. A slice of betel wrapped with a green leaf daubed with a paste of lime is chewed slowly. It leaves a red color on the gums, lips, and teeth. I understand that it gives a mild high. My mother used to have it occasionally when we lived in a small town during my childhood, but gave it up when we moved to the capital. When I wrote to Tynne about it, she did some research and said,
Betel nuts, the fruit of the areca palm, are used exclusively as a mild drug which is said to promote euphoria, heightened alertness, sweating, salivation and an increased capacity to work. The active ingredient is betel nuts is an alkaloid named arecoline. It is ingested as a component of a 'betel quid' which is both chewed and held like chewing tobacco inside the cheek. Chewing betel is popular in many cultures. The nuts are legal to cultivate, buy, possess, and distribute without a license or prescription in the United States, although the Food and Drug Administration has banned the importation of betel nuts.
Read more: How to Use Betel Nut | eHow.com
End of quote. This girl is fun!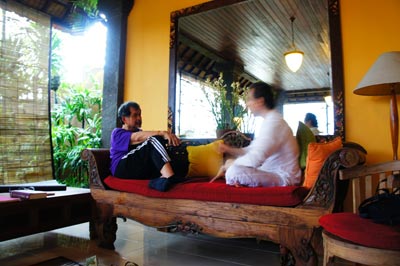 David and I were having a chat one morning when KJ Lau from Hongkong arrived and started to take photos of us. KJ sent me some of the photos he took around Bali. He gave me permission to use some of them in my website.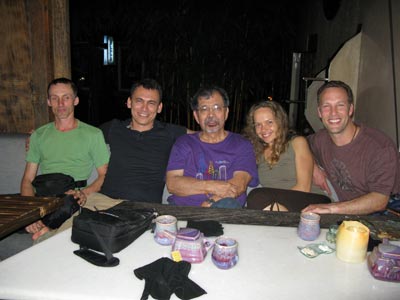 Myles (London), Cem (Turkey), Rene (US-Philippines), Tynne (Connecticut), and Lee (California) at a Balinese resto in downtown Ubud. I met Myles in London about 7 – 8 years ago. He studied Traditional Yang Family Tai chi chuan with me, including the 108 Solo fist form, Dao/Knife and the Gun/Staff. Cem is a teacher from Istanbul. I met him briefly aout 7 years ago in a penthouse restaurant overlooking the Bosphorus and a famous bridge in Turkey. Tynne is a raw-food chef and a Healing Tao instructor. It was the first time we met. Lee is a popular qigong teacher and acupuncturist who has been featured on PBS. I've known him since the early 90s. It was one of the very few times I joined my friends for dinner. Otherwise, I stayed home and often cooked or ate fruits (mango, avocado, papaya, banana, mangosteen, durian, mandarin oranges).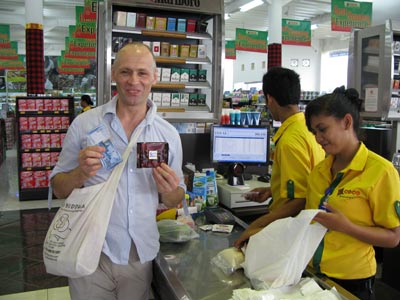 Pierre-Jean (formerly from France, now living in Turkey) occupied the bedroom downstairs from mine in Bali. A professional chef and a serious qigong and alchemy practitioner with a dry sense of humor, he has studied with David for many years now. I first heard about his exploits the second time I was in Istanbul when I was a guest of David in his flat along the Bosphorus. We were supposed to meet in Dalian, China in late 2007 but he got delayed in Turkey. Well, we finally met in Bali. A generous man, he used to share his delicious dishes with me.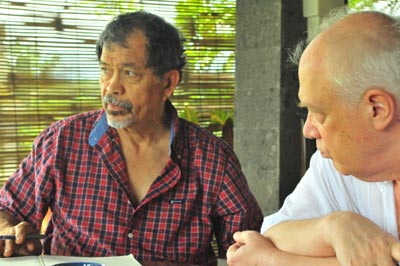 NIkolay is at the cutting edge of psychic research in Russia. He is himself a master of several of the phenomena. In exchange for massage treatments, he patiently gave me lessons in improving "vision" — being able to read and see with the eyes closed. "But I am too old," I protested. "This is better for the young." He said: "Children and old people are the same. They both have fun and do not care about making mistakes." I took him at his word and practiced the excises. On the last lesson, Marina joined us at the table and said: "Rene, this thing really works." She asked me to give her a book to read. She put on a blindfold and black hood and forthwith began to read from the page of a recipe book I placed in front of her. The night before she did the same demo for a Hindu priest who was incredulous about the technique, except that she read from a Balinese newspaper.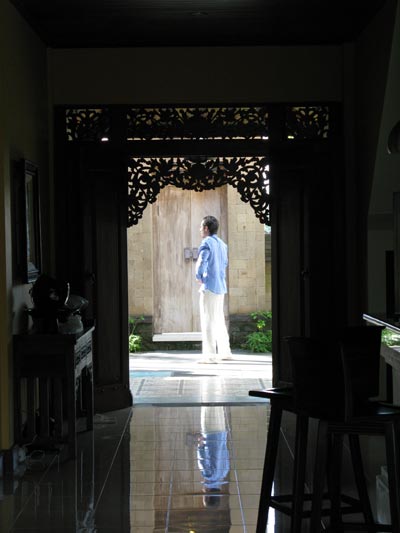 David practicing in the morning. It was always raining in Bali and we hardly saw the sun. So when it came out, David and I stepped out. I went to the garden in the back and he went in front of the house to benefit from the sun. I remember taking a photo of David practicing one morning in a park just outside of Rome.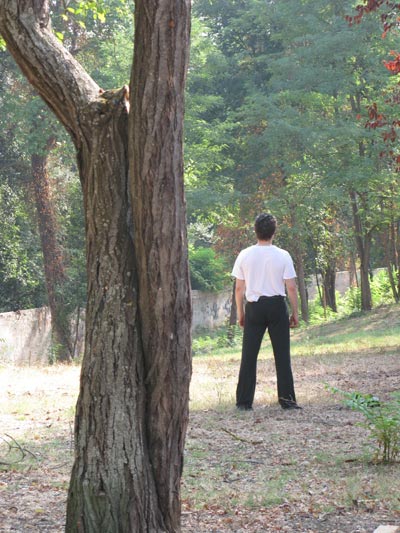 David practicing in a park in Rome (2009). I often see David practicing in the morning, whether it was in Chiangmai, Istanbul, Rome, Huangshan or Bali.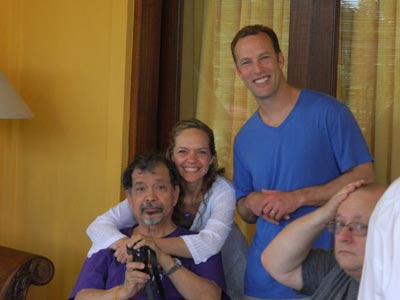 Tynne, Lee and me during break. We horsed around a bit before the fire rituals practice. I thank both of them and other students of David for being suppotive and fun. Photo was taken by Cem, a teacher from Turkey.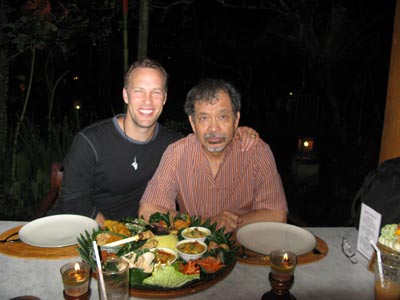 Rene and Lee in Bali. We shared a dinner for two. A few items appeared on the plate, some of it very hot and inedible. Like Thailand, Bali can surprise you with their green and red peppers that sneak up like an explosive.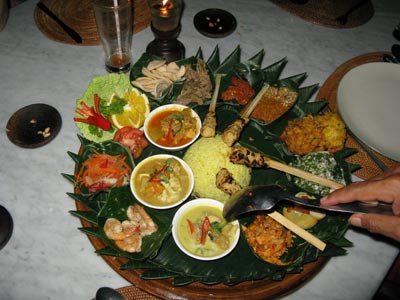 The plate Lee and I shared had all sorts of small appetizers, a few of which were very spicy, but it was filling.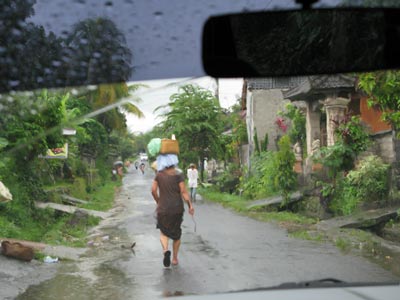 You'll often see women with a basket balanced on top of their heads. The first time I went to Bali, in 2006, I was surprised to see a queue of women, their arms to their side, backs straight, carrying baskets on their heads on their way to the temple.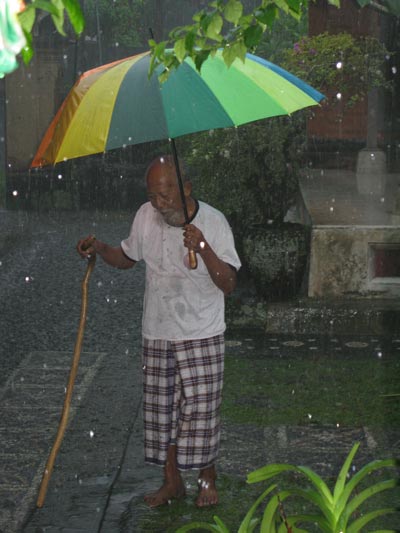 The old shaman walking in the rain. He usually had that cloth with the black and white pattern, a symbol to ward off evil spirits. It was raining hard. The birds in their iron cases were asleep. The old shaman excused himself and went to the bathroom for his regular morning ablution.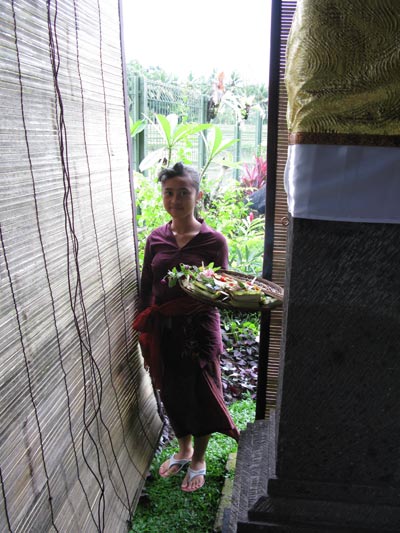 I was taken aback when I saw this young woman, somebody I had not seen before, making an offering at the spirit house. It was the first and last time I saw her.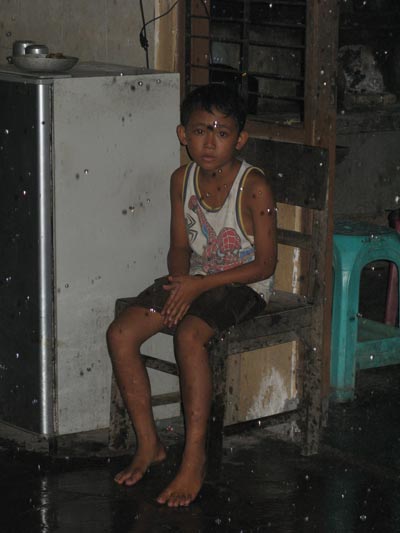 The boy would quickly appear and as quickly disappear. One time he squatted on the ground and ate his lunch while a woman was making small baskets of offerings.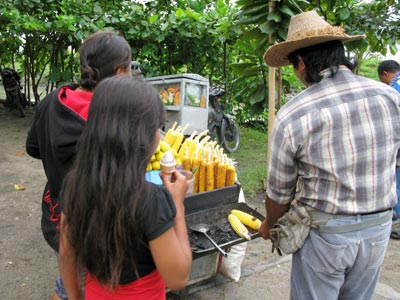 We had seen a temple and were in Kuta. Our driver Wayang followed a circuitous road until we ended at a parking lot by the sea. It was well past lunchtime. Nikolay, Marina and I took a walk on the beach and passing a small wooden bridge, we smelled the scent of roasting corn. We got one each.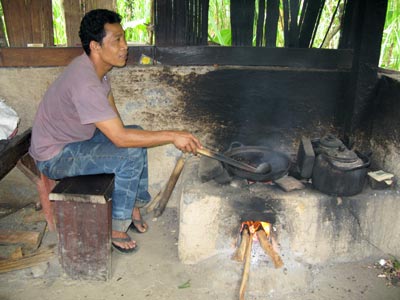 This photo was taken at the coffee plantation. The man was roasting luwak coffee, a unique kind pooped by the civet cats who eat the coffee beans. A crew carefully picks the excrement, washes it and then this man roasts it in a wok. Marina and I tasted the free sample. I heard that a cup costs about $40 in Tokyo and London Heathrow. I paid about $40 for a small box of it. I was told it can yield 50 cups.


The young woman was inside the store in the half-light. Her eyes were intense and she was motionless. I took the photo from the car while our translator and guide Agung was buying a gift for the old shaman.